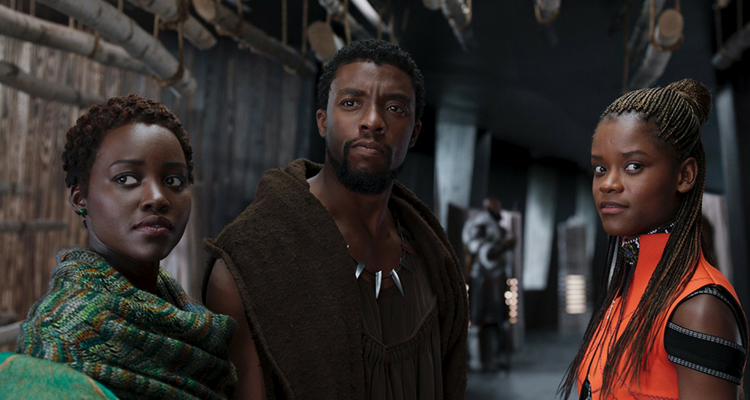 Looking for a movie experience that will have you buying your second ticket before it is over? Check. Ready for a movie that will make you think and damn near cry over a villain? Double Check. Black Panther exceeds all expectations in this beautifully created film from the visions of Marvel Comics, Ryan Coogler, Nate Moore, Ruth E. Carter, and a slew of other talents. I cannot talk about this film without talking about the connection and love story of family and community. Black Panther covers an array of topics in the film from technology and how it is used to why no one should be left behind in the community. All of this is done through a near 2-hour experience of visual and special effects that will keep you literally in Wakanda, forever. Or at least yearning to go back and visit.
Not only do we dive into technology and the community, but the film beautifully lays out another narrative that is perhaps my favorite thing about the movie. This narrative is woven throughout the movie and recognizes with the demise of Michael B. Jordan's Killmonger. Those in the community must not be forgotten, left behind, or a second thought. Perhaps the villain is almost more justified than the hero. And this, this is where Black Panther shines and gets you thinking.
Speaking of shining, costume designer Ruth E. Carter does an amazing job bringing different tribes of the African culture to the big screen along with lots of color. The vibrancy of Africa is truly brought to life with Carter's designs in the movie, highlighting many different attributes that we all already knew Africa brings to the table.
Aside from amazing visuals and a wardrobe to match, the acting in this movie cannot be overlooked as we are gifted with performances from many talents. Chadwick Boseman, Angela Bassett, Daniel Kaluuya, Forest Whitaker are just a few! Since we are talking on acting, can we announce my new favorite? Letitia Wright.
Hint: SHURI FOREVER!  
FINAL GRADE: A+