Bill Murray and Jan Volger's New Worlds Feels Like Home
3 min read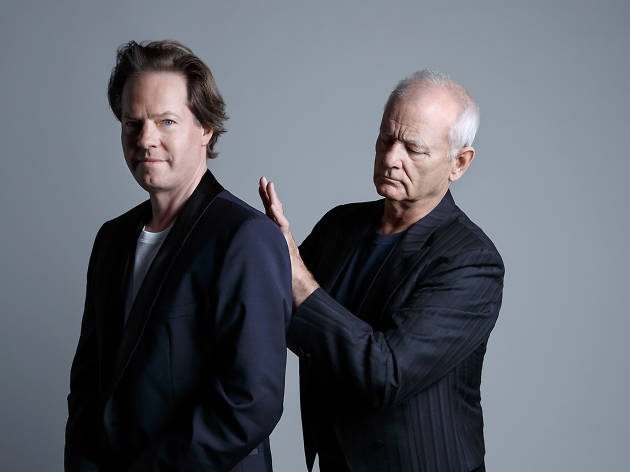 As Bill Murray graced the Strathmore stage in North Bethesda last Friday night, the audience didn't quite know what to expect. Were they going to see a comedy show? Some classic Bill Murray shenanigans? Some classical music perhaps? As Bill Murray opened his mouth and started to recite Hemingway, immediately followed by Jan Vogler playing "Prelude" from Bach's Cello Suite No.1, the audience was in for something different yet wonderfully familiar.
Combining classical music with modern standards, poetry and prose with song, Hemingway with Van Morrison, Bill Murray and a trio of world-renowned classical musicians, the program entitled New Worlds played with expectations of contrast and balance. Songs were either paired over or paired with literature selections of similar or contrasting themes. This was exemplified in Murray's recitation of James Fenimore Cooper's The Deerslayer over composer Franz Schubert's Andante un poco mosso. Vogler (cello), Mira Wang (violin) and Vanessa Perez (piano) transport the audience to a tranquil mountainside through intricate harmonies and effortless synchronization as Murray voice crescendos into a boom, telling of a hunter disrupting the pure landscape looking for his prey.
Other selections included excerpts from Hemingway, the river scene from Twain's Huckleberry Finn, Gershwin's It Ain't Necessarily So (complete with sing-along) and Stephen Foster's "Jeanie with the Light Brown Hair." This variety in selection was purposeful and created many emotional moments to take away throughout the night. Whether it was a soulful rendition of Van Morrison's "When Will I Ever Learn to Live in God" or the comedic beats presented in a West Side Story medley, there was something for every audience member to walk away with.
Bill Murray's humor was sprinkled in throughout the night, even bouncing off the other performers. At one point Murray broke up a musical battle between Mira and Perez. At another, he shout-sings "I Feel Pretty" from West Side Story with girlish glee, recommended viewing for all humans. Vogler was much more stoic throughout the performance, his hand clearly involved with the music selection. In a delightful contrast to Murray, Vogler was the straight man, playing gracefully around the chaos.
There was a sense of casualness to their performance, which is understandable given that they have been touring this show for over a year. Murray's performance felt familiar like he was your grandfather or uncle who got a little too drunk at a gathering and decided to sing and tell stories, a little too loud and a little off pitch. There were moments where Murray mumbled a phrase or held a note too long. There were moments where the quartet were not completely in sync. However, it didn't really matter. Four people, who were passionate about their craft, clearly knew that they created something worth sharing and audience reciprocated that sentiment through numerous standing ovations. Only Jan Vogler and Bill Murray would perform a five song encore and still leave the audience wanting more.