Big Bad Voodoo Daddy In Full Swing
2 min read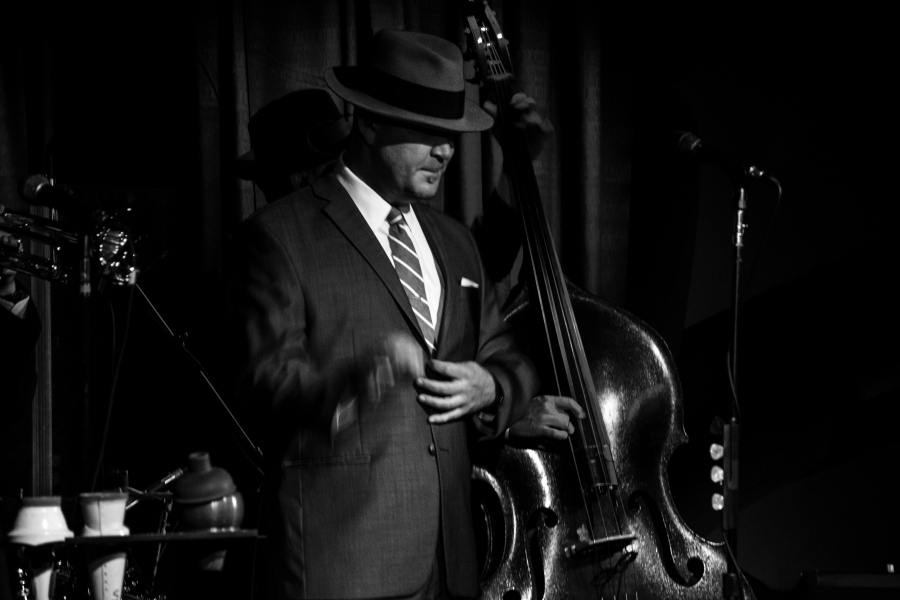 We had these hep cats the Big Bad Voodoo Daddy swing by the frolic pad Rams Head On Stage in Annapolis. They play big band music and have been romping for 20 years! Ever since making an appearance in the movie "Swingers", they've been on the up and up.
Big Bad Voodoo Daddy started making noise in the mid to late 90's amongst a host of other swing contemporaries such as Cherry Poppin' Daddies, Squirrel Nut Zippers and The Brian Setzer Orchestra. This music was actually labeled as alternative at the time; but it's just swing to me baby!
After frisking the whiskers, it was like Tin Pan Alley; and how! The band was hitting on all sixes, they were togged to the bricks, the bee's knees; as smooth as eggs in coffee I tell ya. You had Scottie Morris on the belly-fiddle, scattin' it up. Karl Hunter and Andy Rowley on the gobble-pipes, Dirk Shumaker plucking the fiddle bass. Kurt Sodergren wailing on the hides, Alex "Crazy Legs" Henderson blowing the slush-pump and Joshua Levy tickling ivory; "The Kid" Glen Marhevka was doing take offs on the horn.
Can't collar the jive? Don't be square; you need to get with it! The Big Bad Voodoo Daddy beat out tunes off their platters "Rattle Them Bones," "Big Bad Voodoo Daddy," "This Beautiful Life," "Save My Soul" and "How Big Can You Get?: The Music Of Cab Calloway." They came on like gangbusters! The song "Mr. Pinstripe Suite" had style; "The Kid" was growlin' with the trumpet plunger. The Cab Calloway cover "Reefer Man" was mugging; a real clambake! It had that staccato swing, the jitterbugs were digging it. The horns had trickeration; they put on a show! Their cover of Cab Calloway's "Minnie The Moocher" blew our wigs. The main kick was  humming all night, it made you want to guzzle some foam and that's exactly what I did.
All joking aside; Big Bad Voodoo Daddy really does put on a phenomenal show! They ended their set with "So Long, Farewell, Goodbye" after a triple encore. They've played numerous programs with both the Los Angeles Philharmonic and the San Francisco Symphony Orchestras. That really speaks volumes of their musicianship. They rocked this supper club. When you play swing, it's like jazz; you never get the same show twice. During the performance I could care less what they played; I just wanted them to keep on playing! It's something you just need to experience live for yourself; records, videos, none of it does their sound justice. Something about hearing those horns live pulling solos just gives you this cool energy. Definitely catch the Big Bad Voodoo Daddy if you get a chance.