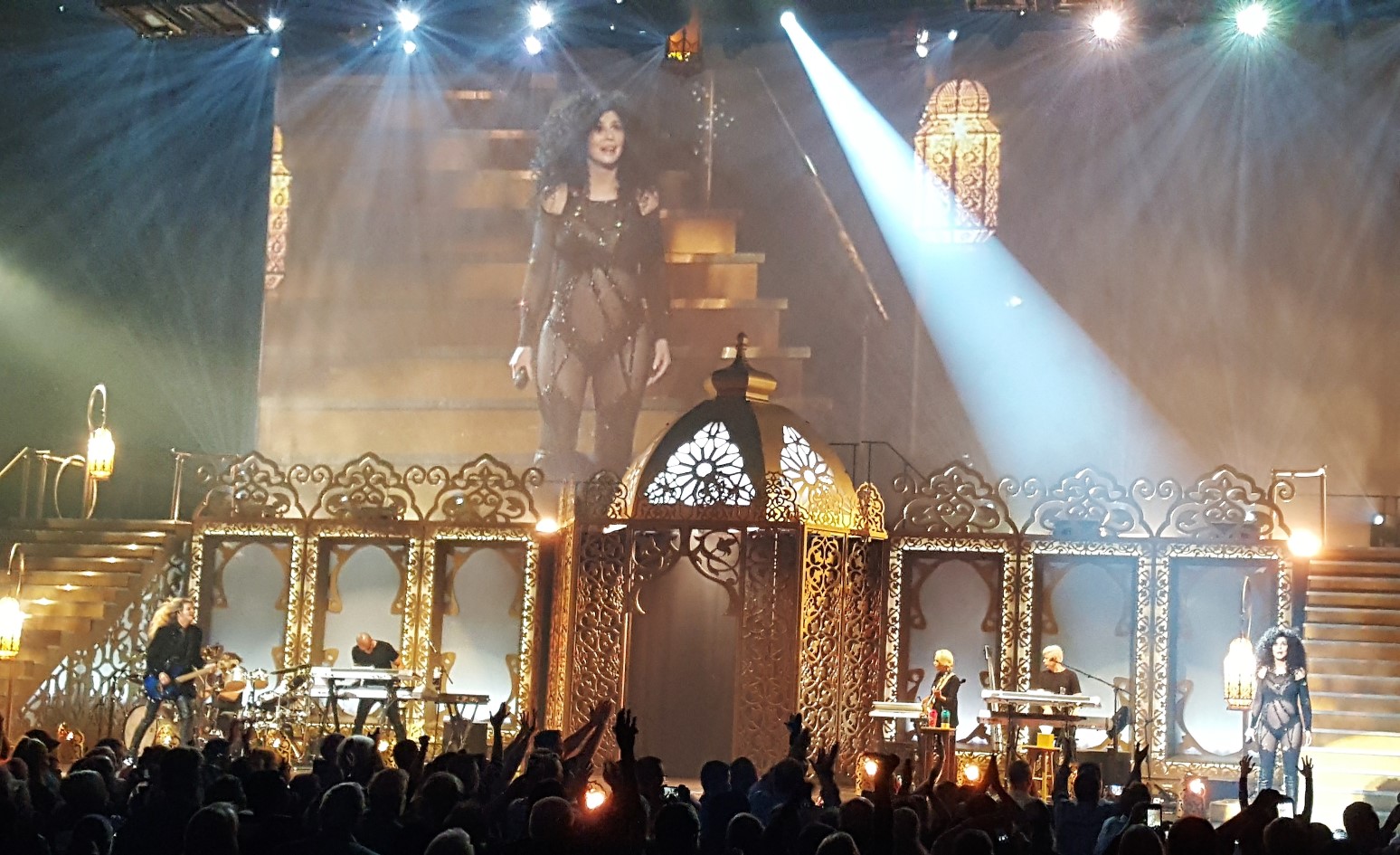 If you believe in life after love, then this show would make you into a believer!  The Iconic Legend we know as Cher performed an amazing show on February 20, 2018 at the MGM National Harbor in Maryland.
As you wait for doors to open, you can walk around MGM to eat, get a drink, or play a few games in the casino.  The MGM has a beautiful Asian display right in front of the theater with fountains and dogs.  The atmosphere was very bright, vibrant, clean, and the staff was pleasant as you walk through the MGM.  As the theater starts letting everyone in, you are set through a brief security check through and escorted to your seats.  The lights turned off and the performance lights came on around 8:30 to start the show.  Each side of the stage had a large screen that played flashback images and videos of Cher with her song "Woman's World".
The curtains opened and the dancers for her performance came out to start off the show.  Cher came out in a beautiful outfit of bright blue and her afro.  Each of her sets had a different theme throughout the show for each song.  After her first song, she spoke to the audience of small past tales from when she started and how many rejected her or thought she was "too old" at 40, how she proved she can do anything, then up to what she is doing now as a 71-year-old.  Her last line was "Now ask yourself this, what is your grandma doing right now?".
The audience was pumped and cheering for every moment shown through the performance.   One of her themes was the 60's, the point of her and Sonny's career number 1 hit was their song "I Got You Babe".  A large screen dropped down and showed video of Sonny singing his part of the song as Cher sang her part live.  It was a very touching moment as you can tell that Cher misses Sonny.  As each performance switched over, videos would play of her career flashback moments especially with Sonny.
The show was still live and active with everyone singing and dancing.  The crowd went crazy excited when her next theme was with her guitarist solo playing her intro to start off her song "If I Could Turn Back Time".  Cher wore her widely known outfit of her long black boots, leather jacket, puffy curly hair, and see thru tights that she wore in her music video on the navy ship.
The curtain closed for a moment as the stage was being set up for the next and last performance.  Florescent neon lights started, and the dancers wore outfits that made them glow when the curtains opened with a techno type music playing for introducing the next song "Believe".  Cher came out and got the audience singing parts of the song.  It was a great way to end the show.  If you have not had a once in a lifetime opportunity to see any legend perform, then I recommend seeing Cher as one of those opportunities.  Cher mentioned that she plays many shows for MGM and she was at the MGM National Harbor last year, so take a chance to see her show when she is in town.