Beauty and The Beast Roars its Way onto The Wolf Trap Stage
7 min read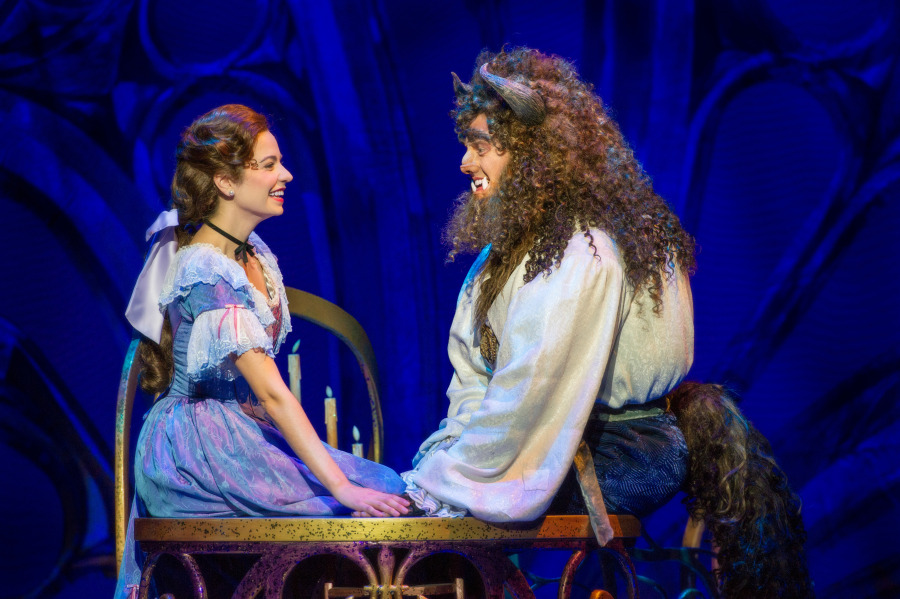 Theatre Revue by Denise A.
It is Tony weekend and if you love musicals, Beauty and the Beast is a show to see. With multiple performances at The Filene Center this weekend, there is no excuse not to get out and support live theatre.
I will start out by saying that NETworks has a "grey" reputation when it comes to their "Broadway" productions. Some people get annoyed when they see "Broadway Tour" and then get to the theater, after paying a lot of money for seats, only to find out it is a non-Equity tour of a show that ran on Broadway, with a completely different team behind it. They feel slighted and  like the production they are seeing is not worth their time or money. This is not the case; it's a generalization. Equity is the union and doesn't guarantee you a good show, nor does non-Equity guarantee a bad show! What Equity guarantees is a level of experience and for some people that makes a difference. I, however, know that you can be more talented than the person who won the Tony last year for "Best Performance by an Actress in a Leading Role in a Musical" and be a non-Equity actor. Some of this cast may very well go on to become Equity members in the years to come, but they just aren't right now.
Every aspect of this production is expertly developed and executed. The wig selection is genius, the set is stunning, the make-up is flawless, the stunts are acrobatic, and the choreography is dynamic and well executed. All of these aspects are crucial to a stellar production, but nothing sells a show like triple threats and talent. This show has them. Every cast member is a team player, but even on a team, there are MVP's!
Belle, played by Hilary Maiberger, is superb. There are few leading ladies with the whole package, but this girl has it going on! Her singing is a lovely, yet powerful, melodic sort of pop sound. Unlike most productions where they go with a gal who sounds like she may have a bit too much fun with the helium tank and her corset is too tight, this show features a woman who not only sings well, she acts brilliantly. This part seems to be made for her! We even got a Belle that danced…dare I say that she can do it all..I think that I have to give her this credit. She even made a few moments comedic with a sarcastic tone to her line. She has a fresh take, but didn't vary so much that anyone was disappointed. She really encapsulates every aspect of Belle. If all you need is Belle, she carries the show on her own, but luckily, the whole bunch is super-talented.
I feel like I should talk about the Beast next, but my favorite performer of the night is Gaston. Tim Rogan is so good at being bad, everyone loves him. Besides being a local boy and graduating from Catholic U, he shows us a real-life Gaston, right off the pages of a book or out of a beloved cartoon. Rogan delivers each line like a master and what a voice!! His timing is impeccable – line after line was a punch. Not only that, I really appreciated that Rogan is built like Gaston. We didn't have fake muscles in a costume. He is the real deal. I can't even tell which aspect of his performance I am enthralled with the most…and yes, he dances too! These two are people you will hear great things about in the coming years, mark my words!
There are many, many other standouts in this cast:
Stephanie Moskal delights as Babette, the fetching feather duster. Every wiggle she does is perfectly timed and she is always acting, whether she has lines or is just standing there shakin' a tail feather. Roxy York as Madame de la Grande Bouche has some divine diva moments. She really makes the most of her time onstage. One thing that I do not love (but it's not her fault) is that at a moment of the show where York really gets to milk her comedy, she pulls out a flask and drinks it down. The little girl in front of me was horrified as was I and several others. This is a very family-oriented show and that was a surprising choice. I would suggest an atomizer (after all, we are in France) that she can spray into her throat to give the same comic effect.
The usual Three Stooges, Lumiere, Cogsworth and Mrs. Potts, fulfill their duties to lighten the tense mood of the castle. Hassan Nazari-Robati as Lumiere delivers my favorite performance of the trio. James May (Cogsworth) and Kristin Stewart (Mrs. Potts) are terrific performers, but on a stage full of people acting their pants off, they are the ones who get a little lost. Stewart's "Beauty and the Beast" seems to fall short of real impact, even though it is a pinnacle moment of the show. It's hard to fill Angela Lansbury's shoes or follow in Beth Fowler's footsteps, but besides having a pretty voice, Stewart is losing in the emoting.
One that should without a doubt be mentioned is Jordan Aragon as LeFou. Every punch he takes and every step he makes is choreographed to make you laugh. His acrobatic antics don't detract from the cast around him, but rather just add to the hilarity. This cast really has it nailed and understands perfectly that they are a cartoon come to life. Every head turn or toast with a glass is timed out to the music and it adds so much to this show. I saw the Broadway production of this show a few times and the first National Tour and I don't recall such crispness in movement from any other cast. Dance Captain Alyssa Brizzi really whipped this group into shape. More than that, this cast understands the complexity of what they are doing and make it look so effortless and really are marvelous.
Naturally, you cannot have Beauty without the Beast. Darick Pead took time to grow on me. It says something when you prefer to see and hear more of Gaston. Pead portrays the character well overall, but in Act I comes off very whiny instead of exasperated. He is portraying the spoiled child, stamping his feel and brooding, but it's hard to believe that a prince is in there somewhere. Toward the end of Act I with the song "If I Can't Love Her" and Act II is a much better representation.  I also love the way he leads into that song, talking on pitch and slowly releasing a wonderful voice.
It is obvious a lot of work has been put into this production, so make sure that you catch this version!
Bravo!!
For more info on the rest of the Wolf Trap season, go to www.wolftrap.org
For more information on NETworks, go to www.networksontour.com