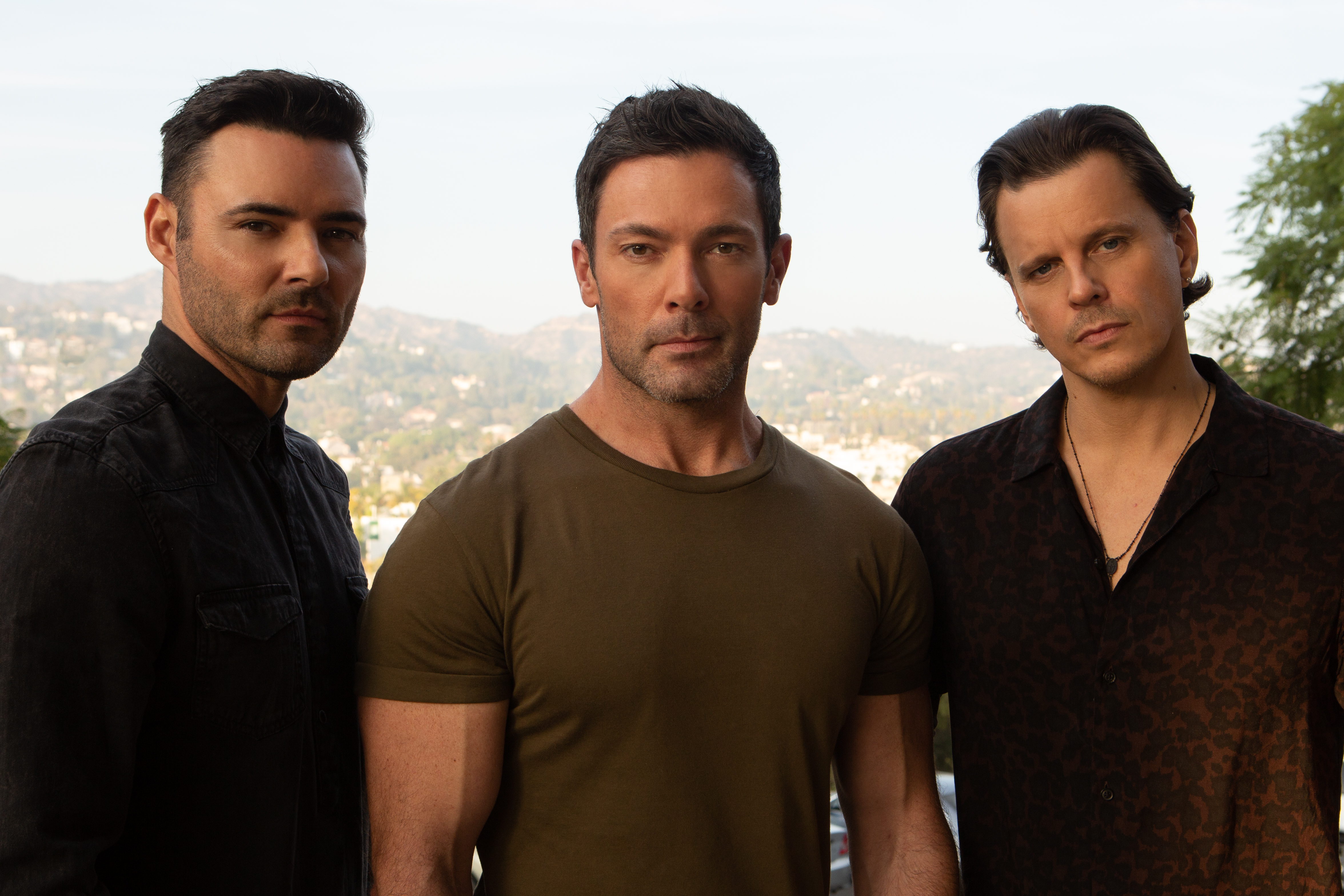 BBMAK, Mark Barry, Christian Burns and Stephen McNally who reunited in 2018 after a 15-year hiatus have revealed they will release a brand new album this August on Triple Jet Music with their first new single, "Bullet Train" out today. Click here to listen: http://smarturl.it/e7dwor and watch the lyric video: https://youtu.be/kGmxv6wW9XU
"Bullet Train is the perfect single to reintroduce us to the world as it's a song that morphs the old and the new sound. Driving acoustic guitars and three-part harmonies for that BBMAK signature sound. We hope you'll be singing this one in your sleep! " – said Ste, Mark & Christian
The band are also set to embark on the first leg of their North America tour beginning Tuesday, May 7. The tour, dubbed "Back Here" after their massive 1999 worldwide hit, will travel through the northeast with an already sold-out show in Boston as well as dates in New York, Nashville & Austin, TX and more.
All dates on sale now – https://www.bbmak.com/#tour
"We are very busy in the studio putting the finishing touches to our third studio album which is set for release later this summer. We are so thrilled to be hitting the road for a full tour in May since we absolutely loved our first few shows last November, and were blown away seeing all the fans come out after all those years away. We're excited to get back on stage and play, as we have a special set of shows planned, which will include brand new BBMAK music. Our fans have really stood with us and we can't wait for them to hear it!" said Ste, Mark & Christian
In addition, the group has one-of-a-kind unique items up for grabs to coincide with the album release. The BBMAK Vintage Merch Bundle includes; 1 vintage signed postcard, 2 vintage stickers, set of four pins, and three guitar picks, in addition, fans can choose one of BBMAK's songs and they will record an acoustic performance of that song just for you!, Or receive one short video message from the band or send one to a friend!, Receive one disposable camera from the band, filled with images taken in the studio, on tour, or around town.
As previously announced, other exclusive items include; handwritten & signed lyric sheet for one BBMAK song of your choosing, signed polaroid photo (no two are alike) of the band and, of course, the new album signed by the band.
Click here to view all items & order: www.bbmak.com/merch
The multi-platinum selling English pop group has sold more than three million albums and had hit singles worldwide between 1999 and 2003 when they disbanded.
Best known for their self-penned infectious guitar-driven hits "Back Here," "Out of My Heart" and "The Ghost of You and Me," BBMAK was one of the few bands from that genre to play their own instruments. Billboard Magazine named "Back Here" the 9th Greatest Boy Band Song of All Time.
"Back Here" – official video – https://www.youtube.com/watch?v=l95MMbls0GQ
"Back Here" acoustic: https://www.youtube.com/watch?v=HcCnb51e4ac&feature=youtu.be
"Out of My Heart" (Live at 8 Track Tapes) 2019:

"Back Here" Tour Dates
Tue May 7th – Boston, MA | City Winery –SOLD OUT
Wed May 8th – New York, NY | Gramercy Theatre
Thu May 9th – Wilmington, DE (Philly market) | The Queen
Sat May 11th – Vienna, VA | Jammin' Java
Sun May 12th – Cleveland, OH | Cambridge Room @ HOB
Tue May 14th – Detroit, MI | Shelter
Wed May 15th – Chicago, IL | Back Porch w. VIP
Fri May 17th – Nashville, TN | City Winery
Sat May 18th – Atlanta, GA | The Loft
Mon May 20th – Dallas, TX | Cambridge Room
Tue May 21st – Austin, TX | Stubb's Indoor
Wed May 22nd – Houston, TX | Bronze Peacock
Follow BBMAK:
Instagram: https://www.instagram.com/bbmakofficial/
Facebook: https://www.facebook.com/OFFICIALBBMAK/
Twitter: https://twitter.com/BBMAKOFFICIAL