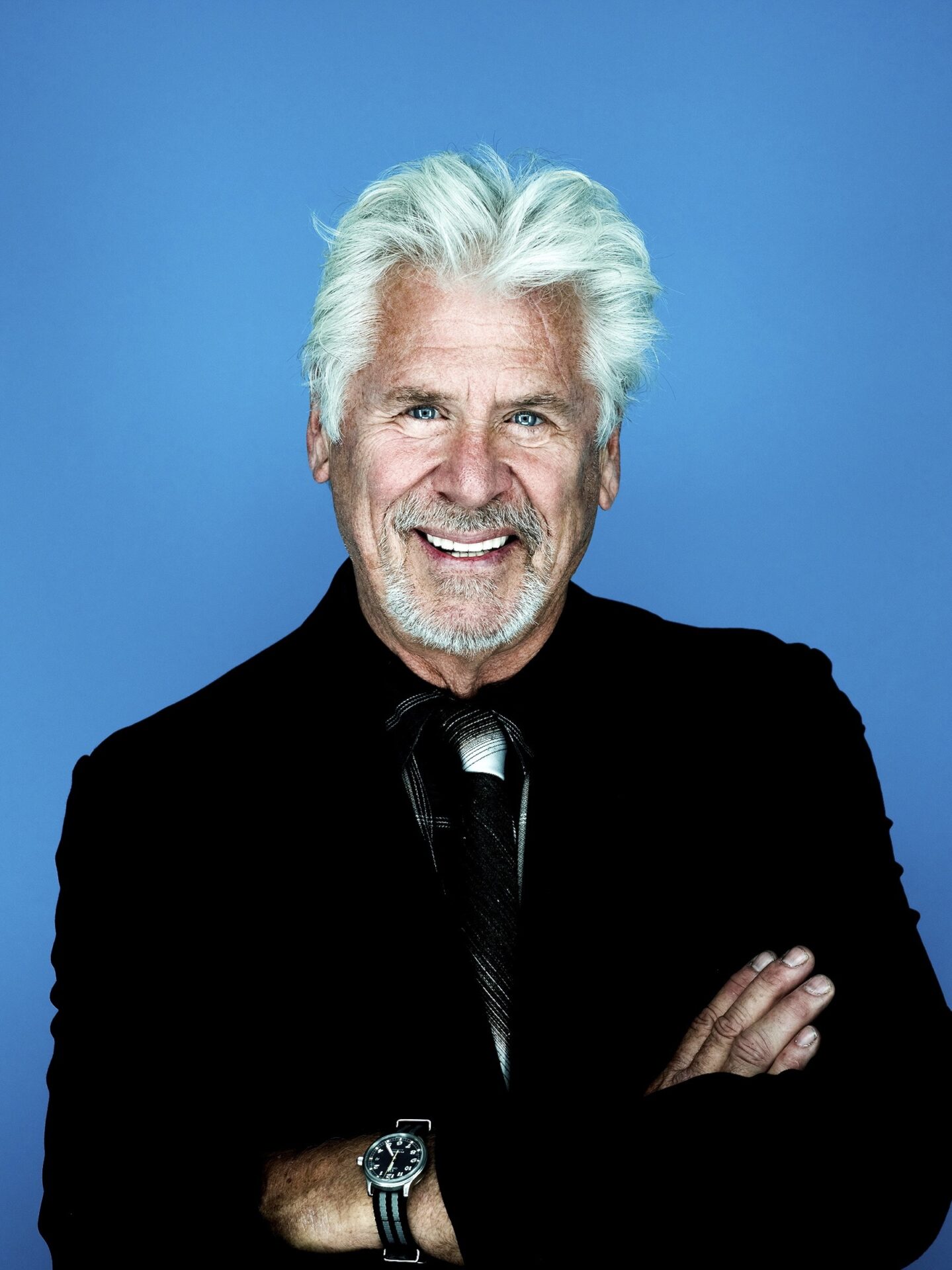 And on this edition of THE INTERVUE, I can't believe it has been forty-six years since we got the first taste of Rocky Horror Picture Show. It is a rite of passage. It is a coming-of-age story. It is one of the longest running movies of all time. And ladies and gentlemen, I don't think we should give this guy an introduction but I am giving him one anyway, he has played the father of our country in a 1984 miniseries. He was Mayor Randall Winston in Spin City, but for most of us, myself included, he was Brad Majors in the Rocky Horror Picture Show. So my fellow sweet transvestites and transylvanians, we have the wonderful, Barry Bostwick!
I just realized that I played a lot of politicians, and probably what Brad ended up being after this episode is his life. A Transsexual Transylvanian who probably became mayor of New York accused of Hanky Panky through some major hotels I think if I go from one thing to another, whether it's a musical or a play or a figure, or I don't know if a guy's lying like I did. Dougie, come Holla Holla whatever that thing is, when?
Yeah.
That's what you have to do as an actor, if you're fortunate enough to still be in the game.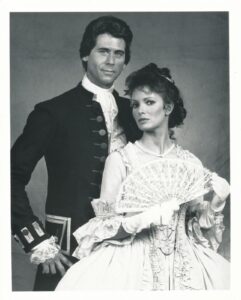 Yeah, absolutely. Right. I mean, you have been in many Movies & Television. You won a Tony, you played George Washington. And that's gonna lead to my very first question. I want to know, how did this acting long tenure career started for you? What happened is you get bitten by the bug. Did you have training? What was it that started this journey for you all those years ago?
A pretty girl in high school that broke all the weird wacky wants to pull up people who are in severe department, whether it was high school or college. And, you know, I'm in a state of mind where I needed to be seen and heard and, and I wanted to entertain people in here at the back of laughter or tears. I was and I got a Bachelor of Fine Arts and acting from a college in San Diego that I went to NYU School of the Arts. I'm working on my masters and then I put that up for you because the government loans even back in the 60s were for him to be I didn't want to have to walk away with that kind of debt.
And I was also working I was doing. I was in repertory company. I did my first Broadway show, I think, pretty much right after right after college at NYU, so I was already on a path. And I was lucky enough to find an agent and a manager who believes that they will consequently John Travolta. Patrick Swayze, a whole handful of actors. Productions of Grease because I was in original company, recent Broadway creating the part of Danny Zuko. So powerful month was his name. He was the manager, and he was very smart, and mind all the companies of Greece and found all these wonderful, young, young leading men and created some stars. I think Grease was my first big hit, and but really sort of brought me into the public side, after doing a lot of sorts of off-Broadway musicals and things like that in New York. And so, I owe my career to Danny Zuko.
And we owe your and we only definitely your career thing. So, you've got me created one of the most iconic characters that have stood the test of time with Grease. And here we are with Brad Majors of Rocky Horror Picture Show. But before we talk about Rocky Horror, I want to know because I've seen and read your resume, you played everything from George Washington to Francis Scobee of Challenger, the TV movie, to play into mayor of New York City in Spin City to plenty of TV, and Broadway and film. And I like to know of all those acting roles, how do you determine what is the best role for you that fits your character that fits your personality?
Whatever it takes for them.
I agree with that.
Yeah. Have to feel like almost every script, there's a nice one scene which challenges me and goes, oh, I get it. That's the one that's the one scene I want to focus on. The rest of it is just sort of you know, the bread around the face, and like to stay focused and work my way towards that one scene and be challenged and interested and feel like it's using something that maybe I haven't tapped into, or I have tapped into it as an actor, and I'm comfortable with it. And I just want to make it a bit deeper and more meaningful.
To me. That's, I think that's the that's the trick. The trick is, is finding that one scene that really uses your essence, you know, I think that you can't go that far off what people have seen you before. I mean, I think a lot of actors go wrong when they say well, I want to play this or that character because it's so different than what I usually play well that's usually because nobody will see it nobody accept you as that because you're so far away from your essence as a human be. And as that is something that you only become aware of and are comfortable with if you would have lived a life of curiosity Shut up on it you know, have some inner peace or inner turmoil that you're able to tap into.
I definitely agree with you. And you have played such brilliant roles over the past forty plus years, and I applaud you for your efforts. I applaud you for your efforts. Now, Rocky Horror Picture Show that having the next do the 45th anniversary spectacular tour again, coming to Washington DC of all nights, Halloween, so I have a few questions about that. The first question I want to ask is, what can the fans and the rocky virgins who are coming on October 31? What they can what can they expect?
Well, they can expect one of the funnest evenings they've ever had in their life. And they can do back to a sort of crowd of people who many of them will have, will have seen it many times, and will talk back to the screen and throw things at each other has called the Nazi name. There will be an opportunity for the audience to dress up as these characters that get parts of the part of a costume contest and act out their own fantasies. It's an idea of not only dreaming it but being for anybody who chooses to enter the hall, I think it's because it's on the 31st car, it's become like the like the like the paint has a Christmas special.
It is the thing you must see and do and participate in on Halloween and I think by doing by us doing the show in Washington DC on the 31st, It's very special to us. And it is it is it is the prime night is in the whole sort of we do a little mini tour of theatres ending up in Washington. And what they can expect is I'll come out and be rude and yellow. There'll be a shadow cast. The movie in front of the film will be a lot of profanity. And there'll be a lot of weirdness and wonderfulness and wackiness. And I recommend anybody to come and say hello to me. And I think we're also doing some VIP packages where you where you can come and talk to me. Oh, my gosh, isn't that just wonderful? You get that talk to me? Yeah.
You know that's it. I mean, it is just, it is the biggest night of the year for rocker people. And so, you must respect that. And if you're a virgin and you come, you must realize that you're going to be pointed out. And you'll probably you'll probably get a big V in lipstick on your forehead. You will immediately have joined the cult congregation. And I suggest that you come into it with that mindset of it's just your fun, and you're going to walk away having made some new friends. And, you know, bring your friends with you.
I mean, that's what you thought about that, but when you say the coming of age is usually a coming-of-age thing that they would bring all their high school friends or there you know, all experiences together. So, you have something a touchstone later in life, we go well, you remember when we went to the rocky heart, you know, we had to sneak out and we told our parents that we were really in Billy's house, but the building wasn't you know, and you know, it's sort of it's a naughty night.
Yes, it is. Yes. cover three of my questions. All right. That's pretty good. I love talking about that. Yeah, and I remember my time when I was a virgin all those years ago had to be I was playing Brad majors. So, I was officially inducted. And I love this so much.
And that leads me to my next question. It's been forty-six years since the initial release of Rocky Horror Picture Show. Why do you feel it has endured and it's one of those pop culture phenoms? It's been in several pop culture references over the years, especially the last two decades alone. What is the appeal? That is massive all those years? From your from your perspective?
Yeah. Well, I think it's colorful, it's fun. It's musical and it's just pure rock and roll. And you got to keep lovin' it. A big rock star now. Oh, yeah. Tim Curry who had part of his life he was so extraordinary. And all the characters I think everybody in the audience can relate to one character or another. I think it's just simple story. It's a story that's naughty, as we're saying. It's about sexual. So discovery and accepting of who you are and who your friends are, and the lack of judgment in the world in a way.
And the overall theme of just dreaming, I think, was what carries us along. But I was we were doing it. I mean, we certainly had no idea that was going to have the kind of legs that it does as a piece of film. Yeah, I mean, we were, we were just all hoping we wouldn't fall down. You know, text, ammonia, and all those things that went along with making the movie in the wintertime in English. And
That's quite an adventure. And you're right back. "Don't Dream it, be it!" is actually one of my quotes in life. So, I really thank you guys for giving me one of the amazing quotes I live by when it comes to my so thank you so much.
Well, you're welcome. You know, that was originally taken from a, an ad in a lingerie catalog in Hollywood, on Hollywood Boulevard. That was Richard O'Brien, a bit of genius, you know. And it's quite parallel to people dressing up for the peace. You've seen a lot of truck drivers and people like that dressed up for their easy as Iraqi army, as Dr. Frankenfurter, you know, with both the stockings and all of that, yeah. And then the next day but go out drive a big rig to deploy. They dropped it, they weren't there and went back to their lives. And it's such a wonderful diversion from perhaps what people do daily. And you know, it's a lot about just showing off, but limit the audience that has stolen this movie from us and has become the evening.
It's not, you don't go into experience. But I think it's a good film. And it's all about 1000 people in front of the screen doing in the audience, what they do to it to the cells. And then the life they come up with a yell back on the screen. So, I gave up control of this movie back in the back in the late 70s. When it started becoming this midnight.
Absolutely, they took you right the audience had taken in your movie made a culture phenomenon. And it's everywhere. And it's so exciting that it's wonderful to be part of this amazing phenomenon is such greatness. Now I want to talk about theater because I'm a big theater above and when I read that you won the Tony Award 1976 for The Robber Bridegroom and your Jamie Lockhart is amazing. And I'm so glad that theater has finally come back, especially since it's almost been a year and a half. What is it about theater that you missed that you enjoy? 
Well, I mean, I missed the interaction, I'm just gonna be honest with you. I don't theater was theater was something that I did as a sort of steppingstone as it was when I was raised and hungry. And then when I moved on, I would say that I can't really step back into it because something that treats me whether it was The Robber Bridegroom or Joey did back in the 90's called Nick and Nora. And in fact, we're working on doing a tour On Golden Pond with we're trying to put this together with Ernest Thompson, the writer of On Golden Pond is going to direct it. Well. He's got some original music was probably signed and that led me, and Lauren and I are on I'm putting together a tour now it will be the first time that I have gotten back on stage in twenty years or so. And so it's challenging. But it's it's a wonderful piece of theater to have you ever seen On Golden Pond?
I've seen the movie with her Henry and Jane Fonda and Katharine Hepburn. I've not seen in theater, I would love to after hearing this.
Oh, it's a it's a, such a charming, wonderful family and emotional cakes. And then I think that, I think that we'll do a top notch production and travel around, do what we can around the country. And hopefully we'll do Washington, DC, and you'll come and see us, and you'll see me back on stage after twenty something years trying to remember my life.
And then I'll have to interview for On Golden Pond, which I will definitely do when you come to DC. You also have done some voice over work. You've done work for Incredibles 2 and  for Phineas & Ferb. And I've actually started doing voiceover work about five or six years ago. And I liked to ask you, how do you train yourself from your career in theater and television and movies to become a voice over actor? And then what advice would you give to anyone who wants to become an actor, whether it's on theater, television, movies, or doing voiceovers?
But you know, that's a tough one because voiceovers are coterie of voiceover people who do nothing but voiceover. Yeah. And it's hard, hard, hard to break into that. And I must audition twice a week for stuff here. And I get 1% of everything I do. So it's the voiceover principle union good agent. So at least you're in the running. And then you have to, when you submit your auditions to your agent, you got to figure out whether or not they're actually adding into their, their tapes that they sent to the buyers. Because the most agents have hundreds of actors and they're the first gate keeper that you have to go through to get it. And it has to do with how important the agent is to rely on unreliable they are to the to the client.
But in terms of the work itself, you know, I my advice with voiceover is, is work on your dialect so that you have a real storehouse of things that you can tap into. Because, you know, you're not just going to get voices that satellite do. And a lot of times I will do it if I have to have a Russian accent or something because I'm terrible at dialect and accent I just horrible. So I never get those parts I get I'll get a book on tape or something and and then in the in the body of the book do different characters and different accents that I can do reflect if somebody is off in the booth going, no that's a Spanish accent and here's how it is and then you copy that for a minute and a half and then you go on but you have to have a very deep well.
I take different styles, and voices and accents you know there's somebody things online now to where you can study the tone and how to do it and style of voiceovers has always been the first of all, if you liked the video, when you're in front of the microphone, you're basically just talking to one person. So you can't like pretend like you're speaking to an audience of 100 and you have to scale and toned down you know, the the intimacy of it as if you're just talking to somebody on the other side of the room or the other side of the microphone. That's for commercial and things like that, but for for animated features and things you have to come up with. You have to come up with the tones and timing and different Get on levels of kitchen of your voice. And you have to really look at if they give you a sketch of the character, just imagine how their mouth works or what their body looks like. Are they hunched over? Are they up straight, are they. And you have to look all the characters around them, and see where they fit into the whole picture. Playing Stoker's is fascinating to me.
The hardest, I think it's the hardest second, you got a business to get involved in. But, you know, because of the pandemic, we're all whether it's for movies or TV stuff. So the next, the next bit of advice, make sure that your your set, or your cameras on your lightning or your backdrop, are professional and have defaults, so that when you send in your tapes it's as if you were in the passing person's office with the same good sound, good picture. You're within the realm of competition.
I'm looking forward to meeting you. I cannot wait to officially meet you at the Entertainment and Sports Arena Halloween night, which is one I will never forget a lot of people in DC to come, come, come and meet me and have a blast. You know what else to do on Halloween night? Candy. Come and get candy from us. We'll give you a sweet time.
Oh yes, I'm looking forward to the sweet time and I'm looking forward to talking with you and get a picture with you and hopefully more.
Thanks for talking.
And that was Barry Bostwick, Brad Majors, coming to Entertainment and Sports Arena Paul we night for the Rocky Horror Picture Show. Let's do the 45th anniversary spectacular tour again. Tickets are on sale at ticketmaster.com.