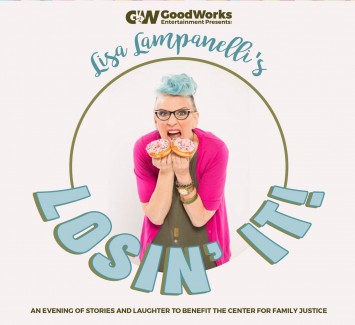 Baltimore Center Stage has announced that comedian Lisa Lampanelli will present her humorous 90-minute storytelling show, Lisa Lampanelli's Losin' It in a one-night-only special event in the Pearlstone Theater on Saturday, November 17, 2018.
Lampanelli, who made national headlines when she lost more than 100 pounds six years ago, created the show to shine an intimate but hilarious light on the universal problems of weight and body image. She was inspired to put the show together by going through her own journey
with these issues and decided that storytelling was the perfect way to convey feelings and sense of humor about the subjects. Lisa Lampanelli's Losin' It will premiere in Connecticut and be performed in New York before coming to Baltimore.
"First of all, Baltimore is one of my favorite cities," Lampanelli enthused, "and I can't wait to comeback to Baltimore Center stage, which is one of my favorite theaters. I don't think I've ever saidthe words 'I can't wait 'til November', but this year, it's true! I CAN'T!"
Lampanelli and her cast of professional actors, storytellers, and surprise guests will have audience members howling with recognition as they hear stories about trying to maintain sanity when it comes to "losin' it." "I love telling and hearing stories about one of the most common issues people struggle with, while still keeping the laughs flowing," Lampanelli explained."Hey, if Oprah — the most powerful woman in the world — still struggles with her weight, what hope do Pam from Accounting, Joyce the security guard, or Lisa the comedian have?!? When you think about it, we have no choice but to laugh!"
Lampanelli performed at Baltimore Center Stage last December in a sold-out reading of the acclaimed play White Rabbit Red Rabbit in the Bernard Black Box Theater. "Lisa is an extraordinary artist and a master storyteller, and we are so thrilled to bring her brand of comedic genius to our stage for this incredibly original performance," said Baltimore Center Stage Executive Director Michael Ross.
Lisa Lampanelli's Losin' It will play on Saturday, November 17 at 8:00 p.m. Tickets are $35 and $50 with a limited number of VIP tickets at $100. VIP tickets include preferred seating and a post-performance meet and greet with Lisa. Tickets may be purchased at
www.centerstage.org
or by contacting the box office at 410.332.0033.