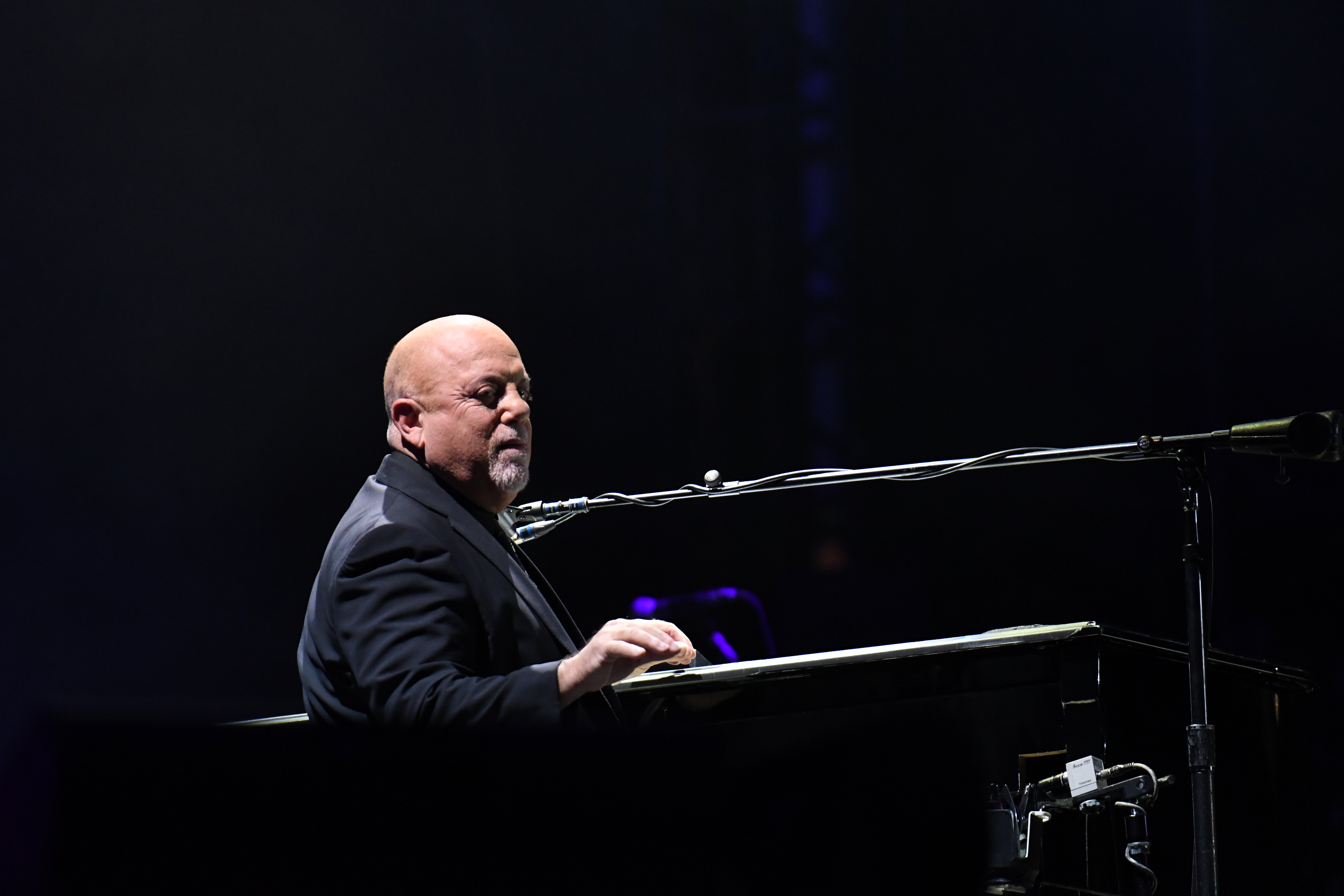 Imagine, if you will, your favorite artist.  Imagine yourself listening to their music on the radio, on television, or on LP's.  Now, imagine yourself growing up and hoping to see them one day LIVE in concert—a concert that it is a historic moment just for being the first concert at its venue. For the thousands in attendance on Friday night in Charm City, they can truly say that they were THERE when legendary Piano Man Billy Joel came to Oriole Park at Camden Yards and rocked them all.
This historic concert started off with a long ethereal orchestral piece that sounded like something you would have at Star Wars in Concert – thunderous and surreal. All of a sudden, the lights went out on the field as the man himself, Billy Joel, walked out onto the stage. With a strum of his guitar, he started off with the familiar phrase "A-One, a-two, a-one-two-three-four" as the band joined him in  A Matter of Trust. Billy's vocals were dead-on as he brought over forty thousand people to their feet, dancing, and singing. Like a fine wine, by just a tiny bit, his voice aged beautifully and was better with time.
Billy Joel switched gears as he swapped the guitar for a shiny, black grand piano for his 80's smash hit Pressure. During the song, the piano rotated 180 degrees on a rotating platform, which I found wickedly awesome, as he performed to the entire audience from every angle. Pure genius! After Pressure, Billy Joel said,"Good evening to you, Baltimore, and welcome to the first concert at Camden Yards!" The amazing crowd roared with thunderous applause and loud cheers. Then, he decided to play a snippet of Bohemian Rhapsody by legendary rock gods Queen.  Billy Joel noted: "That's not my soundtrack," but the way the crowd joined in with him on the first stanza was simply magical. For Billy Joel and other great artists, their music transcends generations.
For some of the songs,  Billy Joel took us on a journey through his life by telling some amazing stories. One example was in 1975, Billy Joel opened for an up and coming Philly duo. We know them as Hall & Oates. Billy Joel goes into a little bit of their signature hit Rich Girl,  then segued into his 1974 hit The Entertainer from the album Streetlife Serenade,  which sounded so sweet LIVE! Joel then gave the audience a choice between songs from his brilliant 1977 album The Stranger.  We got to choose either a number three hit on the Billboard charts or an album track that became a staple at his concerts. We selected the staple Vienna instead of Just the Way You Are.  You be the judge, was it the best choice? (Nods happily.)
Throughout the concert, Billy Joel mixed some classic well-known hits with some songs that you don't ever hear on the radio. The one song that I have never heard before and really caught my eye was Big Man on Mulberry Street from his 1986 album The Bridge. From the first notes to the amazing horn solos, I instantly fell in love with the song. From the look of the crowd, they were digging it as well. Since the concert, I cannot get this jazzy tune out of my head especially when trumpeter Carl Fischer killed it by hitting those high notes near the end of the song.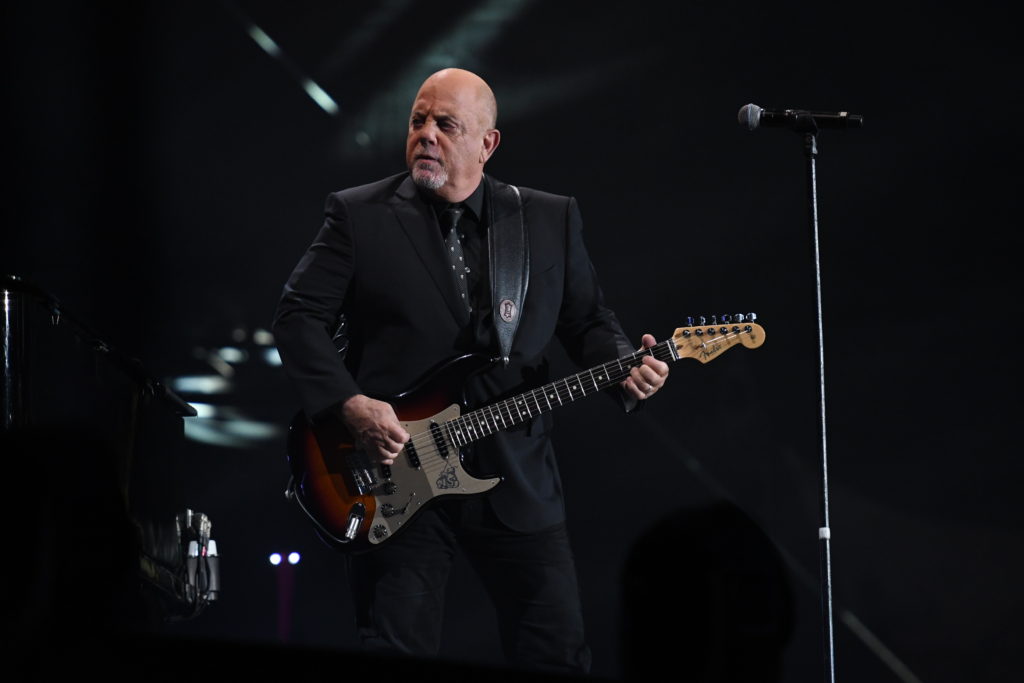 Billy Joel continued playing hits like New York State of Mind, Say Goodbye to Hollywood and, my personal favorite of "the geographical tour" as he called it, Allentown. Before singing, Say Goodbye to Hollywood,  Joel talked about doing solo concert tours now and how he had toured with another famous piano man that we should know and love. That's when he tickled the ivories to Your Song by Elton John and noted that they are great friends despite what we may have heard. Another highlight of the concert occurred during The River of Dreams. Before the final stanza was played, the band transitioned to the 60's Motown song  Dancing in the Street. Taking the lead vocals was saxophonist, percussionist, and vocalist Crystal Taliefero, who really got all of us off our seats and dancing in the aisles.  You know you have ultimate city pride when  "Baltimore and DC"  was mentioned in the song and all of us cheered so loud that you can feel the energy in the stadium!
Another unexpected moment came following The River of Dreams when guitarist and vocalist Mike Delguidice delivered an amazing rendition of Puccini's Nessun Dorma. For Delguidice to deliver such a raw performance with those God-given pipes, it was awe-inspiring and outstanding. I can tell you there was not a dry eye in the house. Major kudos to Billy for delivering such amazing talent. With Nessun Dorma going to Scenes from an Italian Restaurant, came the final song of the night—the perfect swan song to wrap up the ultimate concert experience. All it took was hearing the famous piano riff and Billy Joel on the harmonica and you knew what song was coming—the one, the only Piano Man. Everywhere I looked, I saw people singing along, holding hands and swaying to the smooth melodies of Billy Joel's one of a kind tune. To top it all off, people in the stands had put their flashlights in the air during the epic song.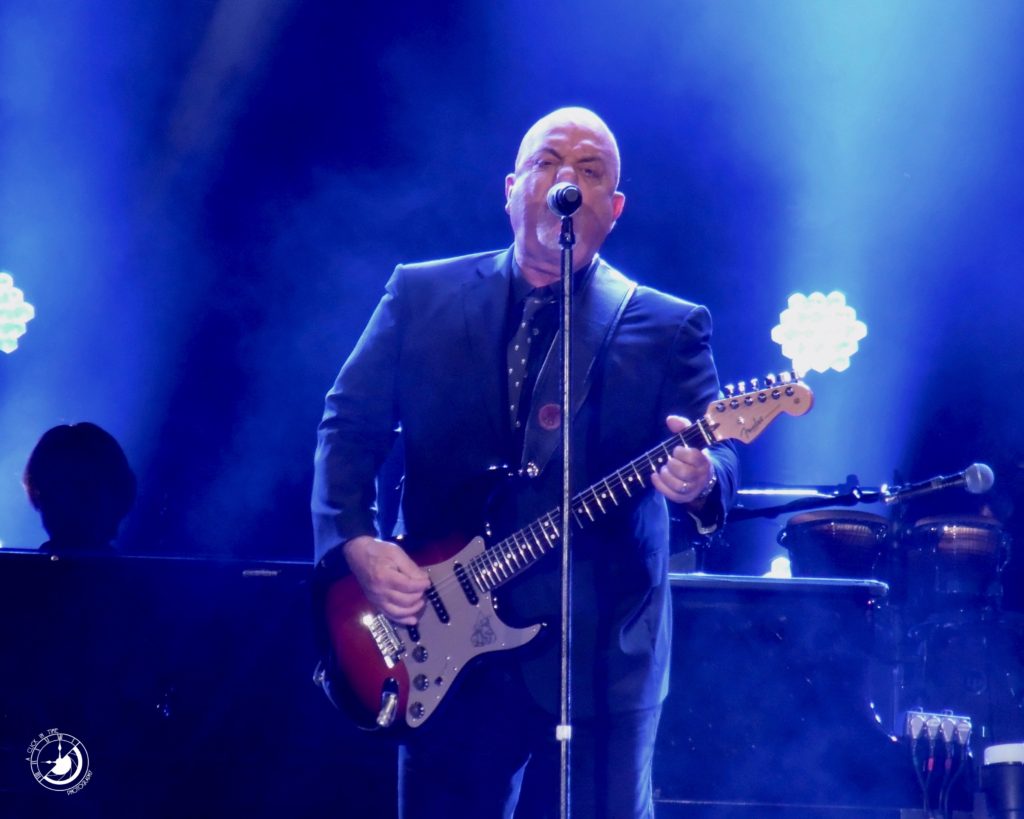 Just when you thought the show would be over, the audience got treated to the ultimate encore from the man himself—five hit songs! It started with the history lesson tune We Didn't Start the Fire before closing with You May Be Right which had a snippet of Led Zeppelin's Rock and Roll. We hope that this will be the start of many concerts to come at this amazing ballpark for the lights shined bright in Charm City on Friday night! Joel just recently turned 70 years young and noted that he has been doing the same job since he was sixteen. He stated that he is "a lucky guy."  Well, we are so lucky to have you be the first to perform at Camden Yards!
FINAL GRADE A+++