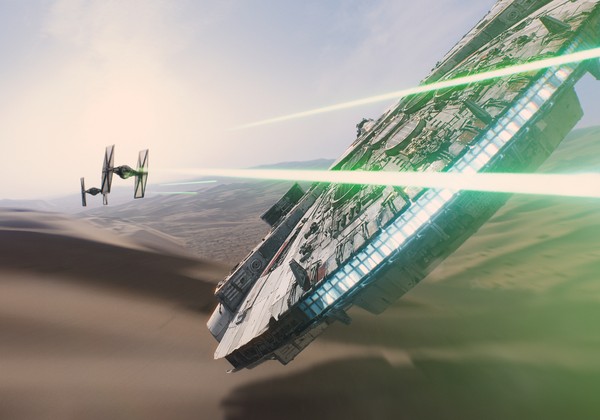 Star Wars: The Force Awakens begins thirty years after Return of the Jedi and is ready to take us to that galaxy far, far away
Luke Skywalker (Mark Hamill) the last Jedi had disappeared while Kylo Ren (Adam Driver) the leader of the fallen Empire and a squad of rebels lead by Leia Skywalker (Carrie Fisher) are searching for him.  Poe Dameron (Oscar Issac) a pilot of the Rebel Squad along with his robot friend BB-8 (Bill Hader & Ben Schwartz) investigated a Planet named Jakku and met the village Elder Lor San Tekka (Max von Sydow). Tekka told Poe he had a map that contained Luke's whereabouts. Poe was given the map and stored it in BB-8's hard drive. As the two were leaving the village they found themselves attacked by a man dressed in black named Kylo Ren. Kylo ordered his Storm Troopers to destroy the village and capture Poe and BB-8.
However, BB manages to escape with the map but Poe was captured and taken aboard the Star Killer Base.  Poe found himself tortured by Kylo until Storm Trooper FN-2187 known as Finn (John Boyega) helped him escape the clutches of the New Empire. On the planet Finn encounters Rey (Daisy Ridley) and BB-8.  The New Empire orders an air strike and the three fled for their lives and found a run-down ship, which turns out to be The Millennium Falcon that was previously owned by Han Solo (Harrison Ford) and Chewbacca (Peter Mayhew). The action continues as they set out to search for the lost Jedi Luke Skywalker.
Star Wars: the Force Awakens, produced and directed by J.J. Abrams is a go-see movie. It's a great return to the Star Wars Trilogy. When I first heard about it I thought it was not going to be good because George Lucas was not making this film and sold his company to Disney. Disney has made some movies that were good and bad but this one turned out to be pretty good because a lot of the original cast was featured in this movie. There was plenty of action, science fiction, emotions and unanswered questions just like the previous films. Without giving away too much information you should see this movie because it's still Star Wars and it will leave you wondering what's going to happen next.
It was good to see Harrison Ford and Peter Mayhew reprised their roles as the dynamic duo Han Solo and Chewbacca takes back the Millennium Falcon. As one would guess it wouldn't be Star Wars without them.
I was impressed with Daisy Ridley's character Rey a newcomer, who had no previous experience as a Jedi but seemed to do well with a light saber and was clever with the force using the Jedi's mind tricks.
The only thing I did not like was the new design for the Storm trooper costumes. I thought the old ones from the previous film looked better but I guess they had to make it look updated since it was thirty years later.
Movie Grade A+.