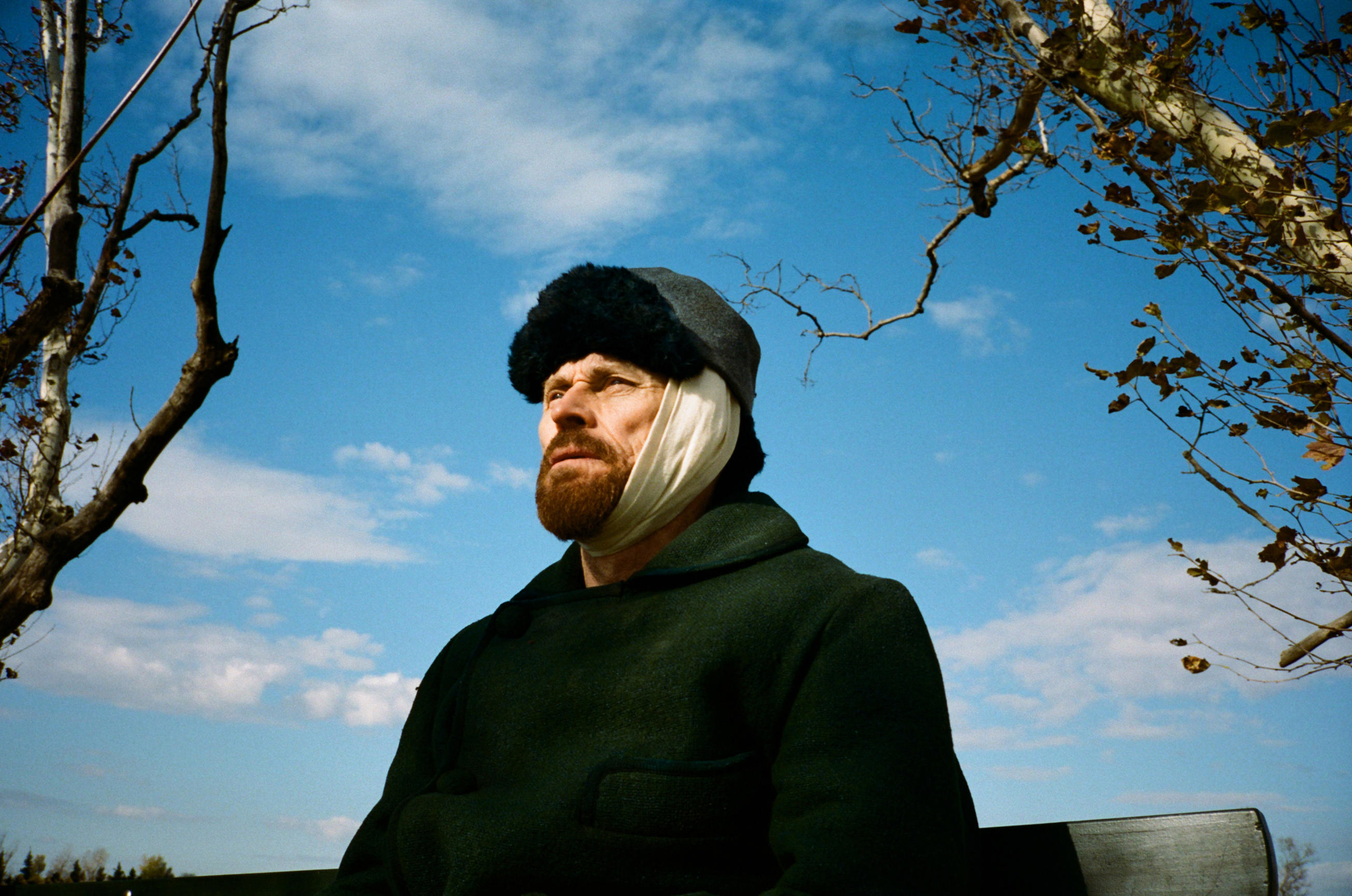 "Maybe God made me a painter for people who aren't born yet." The line seems a bit obvious, but it's an accurate depiction of renowned painter Vincent Van Gogh. This sentiment is reflected throughout At Eternity's Gate, a biopic following Van Gogh through the last few years of his life. Following Van Gogh as he travels and eventually settles down in Arles, France and the effect of mental illness on his life, the film is ultimately an exhausting, accurate, meta portrait of a genius trying to make art and live with his mental illness.
Van Gogh, played by Willem Dafoe, is an infamous figure, his reputation preceding the man's actual life. Dafoe brings a sense of humanity to the public figure, arguably just as infamous for his mental illness as for his paintings. The physical resemblance is uncanny but Dafoe's embodiment of the character is captivating. Combining earnestness and empathy, Dafoe portrays Vincent as a wise naïve artistic genius with overwhelming emotions that the common French country bumpkin just couldn't understand. Even when screaming at a group of school children who were bothering him while painting, Dafoe's Van Gogh is relatable.
The story is told through vignettes, between shots of Van Gogh walking around the French countryside and conversations with various people in his life. Though Dafoe is in every scene, the supporting cast is forever rotating. Most notable are Oscar Isaac, as fellow painter Paul Gauguin, and Rupert Friend, as Vincent's brother, Theo. Friend brings a quiet stability as Vincent's brother, a supportive compassionate figure understanding of Vincent's mental illness, unheard of for the time. In contrast, Isaac plays Gauguin as a cocky intellectual authority. Both used as foils for Dafoe's Vincent, both performances ground Vincent's humanity in reality, beyond his notoriety.
At one point Gauguin remarks that there is too much paint on Van Gogh's canvass, that there is too much going on. This is an ironic statement as there is often too much going on visually in director Julian Schnabel's frame. Schnabel relies heavily on duplicate overlaid images and sounds and constant fade in and outs for transitions. There is a large sequence where the top of the frame is disconnected from the bottom, like the bottom half had been pushed to the right a few feet. His style often seems overwhelming, tired and repetitive.  As Van Gogh walks through sunflower-filled field after sunflower-filled field, the camera gets shakier and shakier. This would be okay if there were just 30 seconds of walking but unfortunately, this aesthetic gets old and nauseating about two minutes in.
What Schnabel does really well are close-ups. His close-ups are like paintings themselves. Pops of color and staging done in Van Gogh's style pull the viewer through some of the more unwatchable moments. These moments compliment the glimpses of humanity Dafoe gives to Van Gogh through his performance.
Despite standout performances and an authentic portrayal of mental illness, the contrived directing style and at times too on the nose script pull the film down.  The pacing drags frequently throughout and Van Gogh's long-debated suicide looms over most of the film. This film is really a character study and what makes it worth seeing is Dafoe's performance. Bringing humanity to a legend is no easy task and ironically, Dafoe's small strokes of nuance paint an accurate portrait of a genius born at the wrong time.
FINAL GRADE: B-
At Eternity's Gate is playing at both Landmark Cinemas in D.C and Bethesda