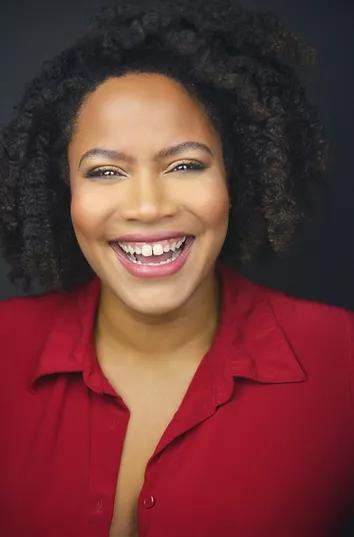 We are welcoming everyone to the next edition of THE INTERVUE. Ladies and gentlemen, we have one of the stars from the wonderful movie musical Tootsie that's coming to the National Theater starting this Tuesday, December 7th and running through December 12th.
Our guest today is a NJ/NY performer who has graced many stages including NYC's Signature Theater and the Tony winning Paper Mill Playhouse. We have Ashley Alexandra Seldon.
Hi, there, Ashley! Where are you calling from right now?
Right now we're in Baltimore. So we're not too far from you?
Oh, you're about 45 minutes away. So you're right up the road from us? Excellent. Well, the first question I want to ask you is what attracted you to the musical Tootsie? And tell us about the role of Julie Nichols?
Well, that question is kind of the same answer. It's really, Julie, I think it's really, it's really unique to see a role written for a woman that is so nuanced, it's got so many layers to it. Julie really starts off her journey, fully set on what her life is going to be she's made a choice. She knows how it's how everything is supposed to be planned out from here on in, and this person comes into her life that really shakes all of that up.
And she's so on, she quickly changes what her almost life's plan is just to go with this person and take a leap and take a chance, which is really, really cool to be able to go on that journey every night. And just connect with the audience and connect with Drew (Becker), who's playing Michael Dorsey. It's been really, really great. And she's got some great songs. So that was always great, too.
So, of all the songs that are featured in this movie musical, what is your favorite?
So, my favorite song isn't sung by me. It's open. It's the opener of Act Two. I can't say the name because there is a curse word directly in the middle of it. But it is very, very funny. I think it's most of our favorite song to be completely honest. It's sung by Jeff the roommate. And it's kind of a summary of what Michael has not only been doing, but gotten himself into, up until that point. And it's really, really entertaining. And I'm right backstage, about to go on before it so I get to listen to it every night, which is really, it's really, really good.
Well, I wish we could say the name of the song. But unfortunately, you're right. We can't I don't want to get sued or….
When they come they'll know exactly what I mean.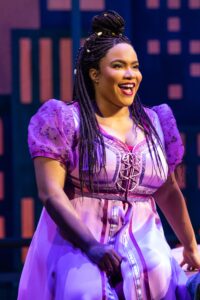 Well, as you know, this movie was made almost forty years ago. So how do you take this iconic role played by Jessica Lange back in 1982 and make it your own? And my follow up question is, were you a fan of the film before taking on the role?
So I hadn't seen the film before taking on the role, which I think was really helpful for me only because the because we've updated it from forty years into the future. There have been a lot of changes to the script and just things that happen. So, in order for me to do my job, I it's easier for me to not be caught up in what happened in the past. So, there's a there's a lot of minor and major changes. The overarching story is the same but I know in the movie, Michael auditions for soap opera, but in the musical because we're in a musical setting. He goes in auditions for a musical.
So yeah, there's just like, subtle changes here and there and I know the Julie from the movie is is very different from the Julie in the musical. So yeah, it's been really, really great just to kind of get a fresh take on it and fresh eyes. Forty years have passed so there's younger people involved now that wouldn't have been able to see it then. So, we're kind of trying to put it into their into their world.
I can understand because I was only one when it came out in Yeah. There's gonna be a lot of changes from what happened to the world of '82 to the world of 2022 to be.
Yeah, the language changes is the really just how the world operates in general, with technology, just everything has changed. So there does have to be an adaptation for that.
Now, speaking of a past, this is a good segue question. Since we're dealing with a play musical about actor trying to find his startup role. What made you want to become an actress?
The first musical that I ever saw was Beauty and the Beast. When I was really young, I want to say I was maybe five or six. And because I lived in Jersey, it was very easy to get to Broadway. But…..
Okay, now I have to interrupt you with that question. Did you see the original production way back in 1994?
Yeah, I think that, oh, no, I would have been too young. So then it would, it wasn't the original production. But it was probably like a couple years after it had opened. So, I was born in 1992. It was out in '94, I probably saw around '93 or '94, possibly, but I remember being too short to see over the person in front of me. So, my mom had to put me on a boxy on her lap, so that I could see the stage.
And I just fell in love with it. It's just so magical. Musical Theater is the closest you can get to real magic happening in front of your eyes. And I've always wanted to be part of that feeling. And just give that to other people, specifically other kids if I can. So that's always been kind of like what I wanted to do. And in between there, I wanted to be a vet and I wanted to do costume design. And I you know, like kids grew up knew like, I want to do that. I want to do that. But it is really fun that I kind of circled back to the very first thing I always wanted to do and landed there. So yeah, it's been cool. It's been really cool.
What else great, because the reason why I had to interrupt you because that was actually the first Broadway show I saw. And I saw the original production back in 1994 when I was thirteen and competed in the Honors Chorus. And then twenty-five years later, I actually got to interview Susan Egan who played Belle in your original production.
Oh my god. Oh, that's a small world. I'm glad to share that. I love that.
That's amazing that we have this connection is great. Yeah. Well, it's been who over eighteen months since musical theater has shut down because of the pandemic. And this is a two-part question. The first question is, how did you stay busy? Did you pick up any hobbies, new activities? What did you do during a pandemic, while we have to wait for the musical theatre world to open up so we can bring back that magic again?
I cooked far too much, far, far, far too much. It was just me, my boyfriend and his roommate in this apartment in the middle of New York City. And I cooked as though there were seventy of us. I made bread I made huge pan pizzas that like two at a time, for no reason. We always had too much food.
Also, we took up yoga, my boyfriend and I, my boyfriend is a powerlifter he really loves the gym. So when the gym shut down, he was distraught. I brought him into yoga with me because the only way to get out of our apartment safely was to go to the park that was a couple blocks away. We found this really, really small section of grass in front of a recreation building that had to be closed and just did yoga in the park in order to settle ourselves and give ourselves some fresh air. There are a lot of hikes. Basically eating and yoga. That's what got me through.
Well, that's good to hear. So, do you find your signature dish in the process of all this cooking?
Oh, you know, I don't know. I guess I do make shrimp scampi, a lot more than I ever made it before. And I now know how to make burger buns from scratch. I don't know why I would ever do that again. But I can do it well.
My next question is what did you miss about working in musical theatre after all, this time not doing it?
It's that's kind of a two-part answer. I think part of it is I've always loved the rehearsal process. So coming into a community that first day, there's just there's something about the very first day of rehearsals, when no one knows what you're no one knows what's going to happen at the end. Because you're all coming in with different ideas, and from a different perspective, and you just are all ready to make something you don't know, you know, what the script is gonna be, you know what the music is, but you don't know what the end product is going to look like or feel like.
So that day in particular, was always so magical to me. And then also, once it's done, just getting to see the audience, and specifically hear the audience enjoying themselves. So once that was able to happen again, it was just lots of tears. Lots of tears, I will say that.
I bet it is. And is Tootsie the first play that you got to do after the pandemic, everything was all clear.
Kind of. So right before Tootsie, I had done a concert version of into the woods with some really, really wonderful people in a theater in Connecticut. So that was the first audience that I was able to hear and see and like kind of get to connect with but the first full production was Tootsie. So you kind of had to get your sea legs back in the rehearsal days and the dancing and singing and getting used to all of that continuously. Yeah, that was I had to get my footing back. But it is nice that it's back now.
Now that you mentioned "Into the Woods", we have to talk about Stephen Sondheim who we just lost, recently – a giant in the musical theater. And I'd like to know what was some of your fondest memories of working in that play in particular, one of Stephen Sondheim's greatest plays?
The text, there are very few shows outside of Sondheim that has such rich text in the songs. It's not just the book, it's the songs themselves. Everything almost has three meanings. If you think about it hard enough. And that was just a really, really wonderful thing to see. I was playing Florinda. So, it was a smaller role but because it was a smaller role, I got to watch these other people do these monumental things in such small spaces. You don't have to do much with your body and Sondheim because your words are doing so much for you.
And I remember, the woman who played our witch was absolute. She's a wonderful performer. She was in the Broadway production of "Come From Away". And it was just, it was so beautiful to be able to see her sing those songs every night and just really connect to it and get so deep into it. I have a friend who's in company who was lucky enough to get to speak with him with the cast, just before his passing. She's only said wonderful things about him as well. And yeah, it is, it's really, really special that I was able to do that. Not during the pandemic, but towards the opening of so.
He was great and I'm sure he's definitely gonna be missed. Well, you're reporting from Baltimore right now. And I'm from DC. Is this your first time performing in the Baltimore and DC metro areas?
Yes, is it really is I know, you guys have a lot of theaters around here. DC has a lot of theaters. I have some friends from Baltimore, and they usually are down here all the time, but it is my first time I'm super excited. Every time I've been to DC it's been for a field trip because I'm from Jersey and that's just kind of where they take you because that's generally where all the history is. So it makes sense. It'll be my first time being here for like a weeklong stretch and actually getting to know the city and seeing other things so I'm really excited really excited to see the theater.
Well since you're only gonna to be here for just a week. What was something that you would love to do if you have more time in the DC area?
I mean, I actually might be don't get to do a few of those things because the good thing is during the week, we only have one show. So, my mornings are open. So generally, in most of the cities that we've gone to, we have seen a few museums, we do plan on going to the African American Museum on Monday. That's when we land and then one of my castmates has never gone ice skating before. So, we're gonna take him ice skating and show him around and just get to see some of the magic of DC and Christmas time, which I've never got to see. So that's super cool.
The question I normally ask Broadway actors and musical theater actors. Is there a role out there that you will love to do one day, but haven't done yet?
I'm so bad at this question. I just really love performing. So I just would do most of it but, I've been in "Little Shop" a lot of times, and I'm always an urchin and I will say I would love to play Audrey. I think that would be really, really fun to be able to play Audrey. She's just so funny and so cute. And just has a wonderful heart. And I would really love to get to do that. I can't think of anything outside of that. I'd love to be in "Man of La Mancha". There's a long list.
Man of La Mancha and singing (The Quest) The Impossible Dream. Yes, I definitely agree. So to wrap it up, where can people find you outside of the tour for social media?
Yeah, so my Instagram is @queenashalex, it was my AOL handle that my dad made me when I was six. And I've just kept so! it's easier to remember. But yeah, if you want to if you have any questions, you can DM me there. The show has its own Instagram as well. It's @Tootsiemusical.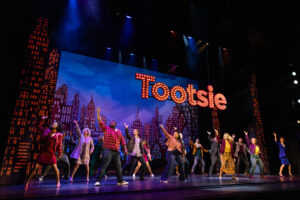 Absolutely. Well, Ashley, thank you very much for taking time out of your busy schedule. I hope you enjoy Baltimore and we can't wait to have you here in DC in less than a week. Visit TootsieMusical.com for current tour dates and check our her website https://www.aaseldon.com/