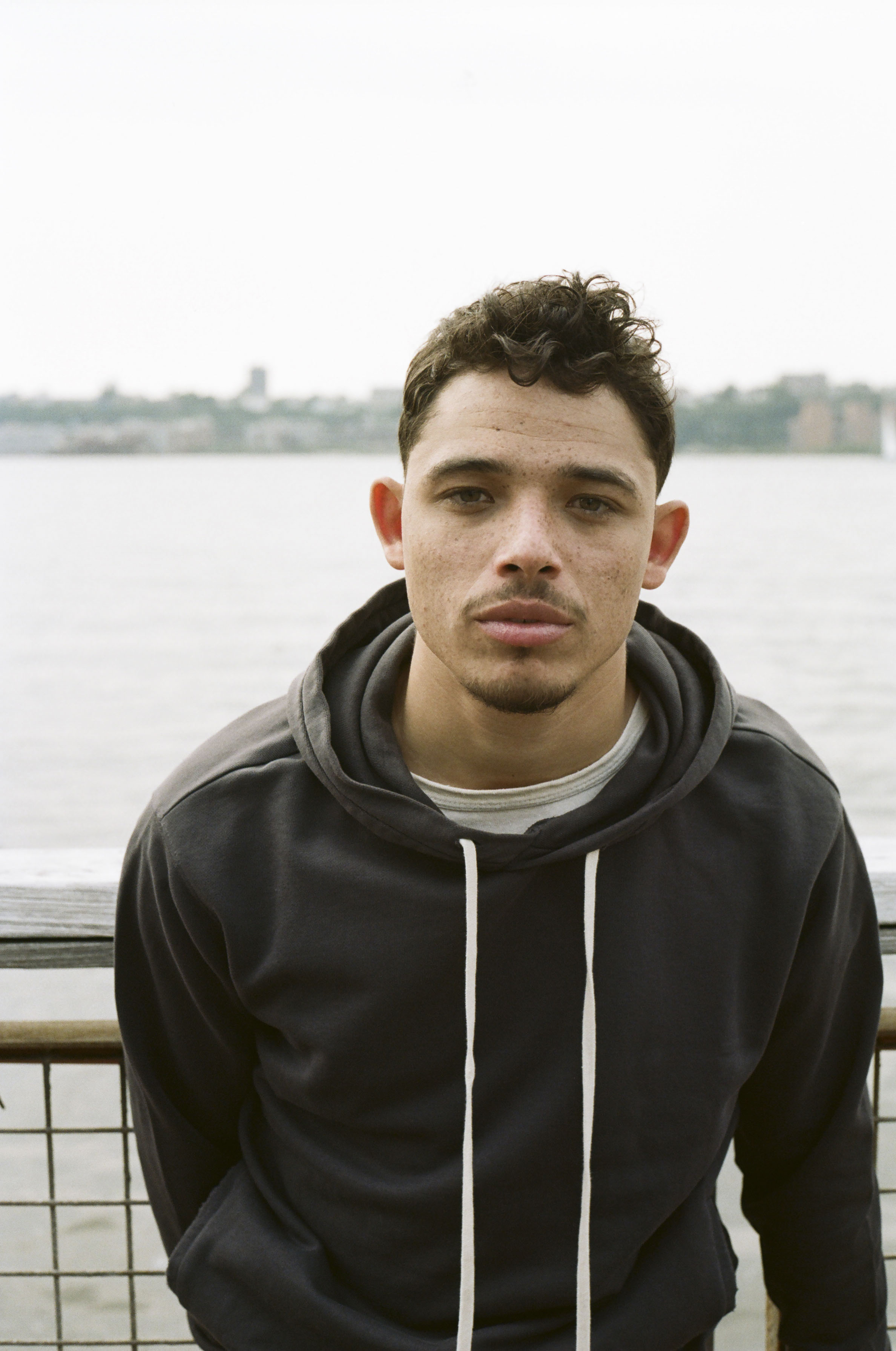 On today's edition, he first made his mark originating the dual roles of John Laurens and Philip Hamilton in the Broadway smash Hamilton.  From there he went on to appear in additional critically acclaimed projects including A Star Is Born and the critically acclaimed Netflix series She's Gotta Have It. Newly signed to Republic Records, he just released his debut album, The Good & The Bad, on October 25th. 
Now he's bringing his tour to the Rock & Roll Hotel Nov. 8th – I present to you on THE INTERVUE – Anthony Ramos
Let's begin with your brand new album that just debuted last week, The Good and The Bad. I loved the title track and some of the amazing songs. What lead you to create this amazing album?
I was just inspired by…just true stories. I had a lot going on that I didn't know I had to get out, and the album became a narrative album abut a character, who is essentially me.
Mm-hmm.
Trying to figure out who he wanted to be in life and realize at the end, after he leaves home in Dear Diary, and he goes through the good and the bad on this journey that he's taking. And after going through all the good and the bad on this journey, that maybe the answers he ever needed in life, all the answers he was looking for were right in front of him, but he had to leave to see how good he had it. Those are the lyrics in the song Come Back Home: I had to leave to see how good I had it/ I had to go to know How good I had it/So would you have me if I come back home? And so, I was inspired by true—these are all real life stories; all things that happened to me.
Auntie's Basement is about an industry party I got invited to that was awesome, but basically, there's nothing like partying with the people you love and are most familiar to you. And One More Hour is about the first time my fiancée and I kissed. Isabella is about one of my favorite towns in Puerto Rico. Isabella is a trip Jasmine and I took. And Mind Over Matter is about somebody making up with somebody you actually love, you know? Not like, a one-night stand and so on and so forth. It's all real life stories, so it really kind of came together itself. It's kind of wild. We just took index cards and we're like, "alright, where's the story here?" and it just kind of formed itself.
Amazing, and I'm glad that the album came out last week, and I'm glad that I was able to hear it and you have such an amazing raw talent that it blows my mind that you are the same person who was in A Star Is Born with Lady Gaga and Bradley Cooper; you're in She's Gotta Have It, which by the way, I miss the series. I can't believe it was cancelled just a few months ago. And I enjoyed your role as Mars Blackmon. What did you enjoy about playing him and what do you miss about being in the series?
I enjoyed playing Mars Blackmon, because it felt like he was the version of me that—he's like the guy inside of me that I try to be too cool to let out.
Mm-hmm.
It was just a dream. It was a role Spike played in the movie and he trusted me with that role, and I had a blast, man. He just let me be the widest version of myself. And I think there's that little thing inside of us that wants to be the wildest version of ourselves, and I got to actually do that, so I miss that. The biggest thing I miss about working on the series is working with my cast. Working with Spike every day, you know? Getting to work with a legend. Working with a legend like that every day is a gift I never took for granted, so I miss that the most. But I'm grateful for what we made that show.
Well, I definitely know what you're saying, and I love the song in the second season that you and your friend Will wrote, Cry Today, Smile Tomorrow, which was inspired by a young woman named Dariel. Can you tell us a little bit about that story?
So Dariel, Will and I met. Will also executive have produced my album. We wrote a lot of songs together, and Will and I were in the studio and got connected to Dariel, and she was amazing. She's an incredible human being and she was battling cancer at the time, and we got connected through an organization called Katie's Art Project. And they bring together people with various serious illnesses and artists bring them together to create some kind of art, whether it's painting or a song or model or anything. Whatever art the artist does, right? So, we wrote a song about her story. And it was wild. She came in and nine hours later, we had a song.
Wow.
We just kind of left the studio, catching a vibe and we were like, "let's just go to a park." And we went to a park down the block and she just starts out with her story and every word was inspired by something she said. I was like, "Yo, what's the one thing that's most annoying thing about your situation?" And she said, "I've got problems. I know my problems and everybody feels the need to tell me to reiterate what I'm going through, but I can tell you ten different ways what I'm going through, what my problems are. It's like, I don't need you to reiterate that part. I just need you to encourage me."
And she said, "and I'll be the first to call them out. I get lonely, because lately friends don't stick around." I'm like, "What hurts the most?" She said, "Friends have left." She said friends, just people she thought were there for her left. She said, "Friends don't stick around, but I keep my hopes up because that's the one thing I can't control."
I said, "what's one of the things you've let go of since this had happened to you?" She said, "I'm not petty anymore. I try not to be petty anymore. I used to be so petty." That's where that line came from, I don't fill my mind with petty lies/I let that go. The title Cry Today, Smile Tomorrowcame from something her nurse said to her.
Her nurse came in one day and she's crying in her room and she found her there. She aided her, she was there for her, she consoled her. She basically said to her before she walked out, "Don't worry, Dariel. You'll cry today, you'll smile tomorrow." And that's the title of the song, and the album. That's how that song came about.
Beautiful. That just made me cry listening to the story. It really hits you. It really does.
She's powerful.
Yes, she's definitely powerful. What can fans look forward to with your upcoming show this Friday, November 8that the Rock and Roll Hotel?
The show is turned up. It's electric, for real. It's one thing to listen to an album, but it's another thing—what I love about the show is I get to walk you through what was going through my mind when every song was written, and why every song was written. People have started to call it the spoken word section, because I like to speak the lyrics before I actually sing the song. So you actually know—you know what I'm saying? Half of that is for the audience, and half of it is for me so I can remember the words. But it's like, Yo. I love to paint it out, because it's like, why not?
You're at a live show, so why don't I tell you what was going on in my mind before I wrote it. And then listening to the songs live, my band is rocking and is amazing. We have the keys, bass, drums, guitar, and it's me on the mic and we get it in. And I think what people can expect is a turned up night and come with an open heart, open mind and get ready to hopefully yourself you might not have known before the show, because I know I do every time we play it. It's like a full experience, man. It's a full experience.
Well, I cannot wait to see you this Friday. I cannot wait. Of all the songs on the album, is there a particular one that speaks to you directly or do all the songs speak to you?
They all speak to me, for sure, but the one that hits me the hardest a lot of the time is Figure it Out. Figure it Out, that's the song that I think lately it's hit me hard, you know? That song's all about loneliness, it's talking about how we're feeling. I think sometimes we feel ashamed of how we're feeling. We feel like it's hard to express how we're feeling, or if I tell you the truth about what's going on with me, I may seem weak. And I was like, "Yo, what is it about us as a society that we don't like to actually talk about what's actually going on?
Why don't we—what is it? Is it because we grew up not being able to do that or is it because—why do we distract ourselves from what silence has to say? Why do we distract ourselves from what our thoughts are actually trying to tell us? That song is all about that. That song just hits me hard every time I sing it, because I think how I grew up and talking about my feelings, talking about how I was expressing what's going on with me wasn't necessarily something that wasn't welcome. I said last night at the shows, we weren't coming to the dinner table and all sitting around being like, "I can't wait to hear about everybody's feelings at the table."  You know what I'm saying?
It was like, throw the tv on throw the radio on. Something. Almost anything. And so the song's all about that. Why am I pushing away silence? Why am I pushing through the day like tomorrow's going to figure it out? Like someone else is going to figure it out. That song is for my people who been going through that. The bridge is I'm making me a promise to admit my problems/Ain't sayin' I'm a solve 'em, but I'm making progress. I say that four times. Half for the audience and the other half for me. It's like we're all a work in progress, and we never have to be ashamed about that. So anyway, that's the long answer.
The Anthony Ramos concert at Rock & Roll Hotel this Friday is SOLD OUT!  Check his solo album The Good & The Bad – Now Available everywhere from Republic Records
For more information abou Katie's Art Project – go to https://www.katiesartproject.org