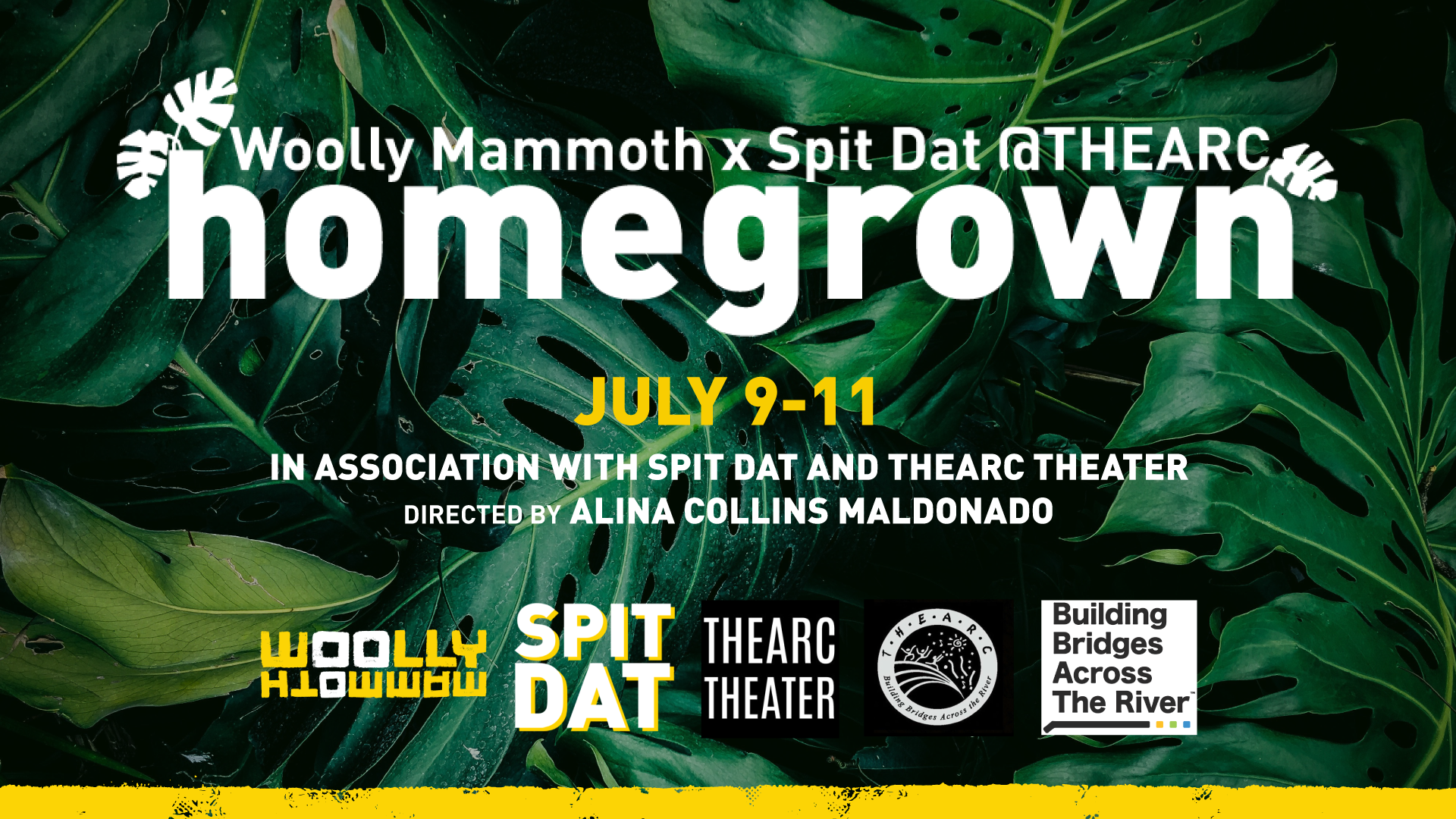 Woolly Mammoth Theatre Company and Connectivity Core Partners Spit Dat and THEARC Theater (a project of Building Bridges Across the River) join together to produce, HOMEGROWN, a collaborative theatrical piece that brings local legends of DC's spoken word scene together with Ward 7 and Ward 8 residents to celebrate the resiliency of DC, its people, and our communities. HOMEGROWN will premiere outdoors this summer at THEARC Theatre July 9 – 11, 2021. Tickets are available now on Woolly Mammoth's website.
"We [THEARC Theater] are thrilled to have HOMEGROWN come to THEARC campus staged in THEARC's Living Classroom next to THEARC Farm. This is a joyful coming together for the Connectivity Core partnerships between Woolly Mammoth, Spit Dat and THEARC Theater," says Kimberly E. Douglas, Director of THEARC Theater. "After a year of not being together, we are thrilled to see and experience emerging Ward 7 & 8 spoken word artists share their stories and celebrate their home East of the River."
HOMEGROWN is the cumulative performance project of Spit Dat Academy, a dynamic program of workshops, led by Spit Dat hosts Dwayne Lawson-Brown and Drew Anderson and established members of the local poetry community to support the growth of the city's next great performance artists. This original piece is directed by Alina Collins Maldonado and features Spit Dat Academy members Shay Izegwire, Shehariah Johnson, Christian Parks, Kiarra Patterson, and Yalan Sesay, in addition to DC favorites Charity Blackwell, Kenneth Carroll, and O-Slice who weave together poetry, storytelling, hop hop, and verse to answer the question, "What is home to you?"
"HOMEGROWN will be our first in-person production since March of 2020. I cannot believe it's been 15 months since Woolly has gathered people into a space to experience live theatre," says Maria Manuela Goyanes, Woolly Mammoth Artistic Director. "I'm deeply honored that our first foray back will be with our core partners and collaborators at THEARC and Spit Dat. It feels auspicious to have this momentous occasion be focused on the talents of local artists and I hope it's a harbinger of many more exciting projects that will highlight DC's vibrant community."
Come find strength in community and experience home.
PERFORMANCE CALENDAR
HOMEGROWN runs July 9 – 11, 2021
Friday, July 9, 2021: Performance at 8:30 pm
Saturday, July 10, 2021: Performance at 8:30 pm
Sunday, July 11, 2021: Performances at 3:30 pm and 7:00 pm

TICKETS
Tickets prices start at $5 and can be reserved online at woollymammoth.net, by phone at (202) 393-3939 or via email at tickets@woollymammoth.net. Same day ticket purchases can be made in person starting 30 minutes before the performance at THEARC. Mask mandates remain in effect on campus. All audience will be required to wear masks indoors, as well as outdoors.
JOIN THE CONVERSATION
Twitter: @WoollyMammothTC
Instagram: @woollymammothtc
SPIT DAT
Twitter: @SpitDatDC
Instagram: @spitdatdc
THEARC DC
Twitter: @THEARC_DC
Instagram: @thearc_dc