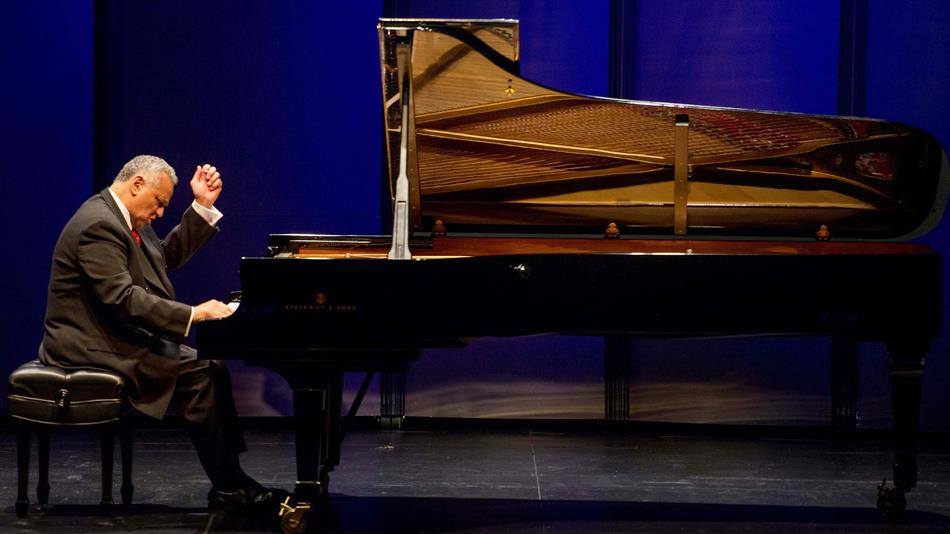 The Baltimore Symphony Orchestra conducted by Robert Spano welcomed back André Watts for Sergei Rachmaninoff's Piano Concerto No. 2 in C Minor. It's one of Rachmaninoff's most captivating piano concertos. It has endeared audiences since it's 1901 premiere.
The program included Dreamtime Ancestors by Christopher Theofanidis, (a BSO premiere) Falstaff by Edward Elgar, and Piano Concerto No. 2 by Sergei Rachmaninoff.
Dreams appeared to be the underlying theme throughout the program. Dreamtime Ancestors is a symphonic poem based on an Australian Aboriginal myth. It's based on a poem is called "What is the Dreaming?" it follows the Aboriginal belief that we are connected to our ancestors through our dreams.  One of Falstaff's greatest passages is the "Dream Interlude" where a lovely violin solo describes an old man's dream of long ago when he was in service to the Duke of Norfolk. Rachmaninoff's Piano Concerto No. 2 (which Rachmaninoff dedicated to his psychiatrist Dr. Nikolai Dahl) was written after Rachmaninoff was hypnotized and put into a state of trance. So it was clever how the BSO brought the whole program together based around being in a dream-like state. They didn't say for sure but I'm certain it was intentional.
Dreamtime Ancestors was a really enjoyable piece. It didn't evoke a dreamlike state but was more theatrical in it's presentation. It's a imaginative tone poem which is dreamlike in a sense but it sounded lively. I would almost consider it a pastoral how much it sounds like nature which would make sense being how in tune with nature the Aboriginals are. It's a great number with a lot of production value. It was commissioned by New Music for America Consortium and will be played by orchestras in all 50 states. Just another tidbit I feel inclined to mention. There's a popular Australian rock band called Empire of the Sun who base all of their sound around Aboriginal beliefs. You probably heard their single "Walking on a Dream" on a Honda Civic commercial. Their lead singer Luke Steele is a big classical music fan. He plays Tchaikovsky's Slavonic March on the amplifiers after every concert.
André Watts who is now 71 is one of the most celebrated classical pianist of this era. It was an immense honor to see him perform. His age did not reflect at all in his playing and he sounded and looked as exuberant as ever. He made one of the most complex scores written on piano look easy. I had promenade left box seats. From this viewpoint, I could see right over André Watts's shoulders as he executed astonishing finger techniques and played right in-line with the BSO. Not only did I have a clear shot of the keyboard but also the inside of the piano. With the lid propped open, I could see the hammers striking the strings and the gorgeous inner mechanical workings of a Steinway & Sons concert grand as it was being played live.
This was a fantastic concert that was magnificently performed by the BSO. From start to finish it was an enjoyable experience.