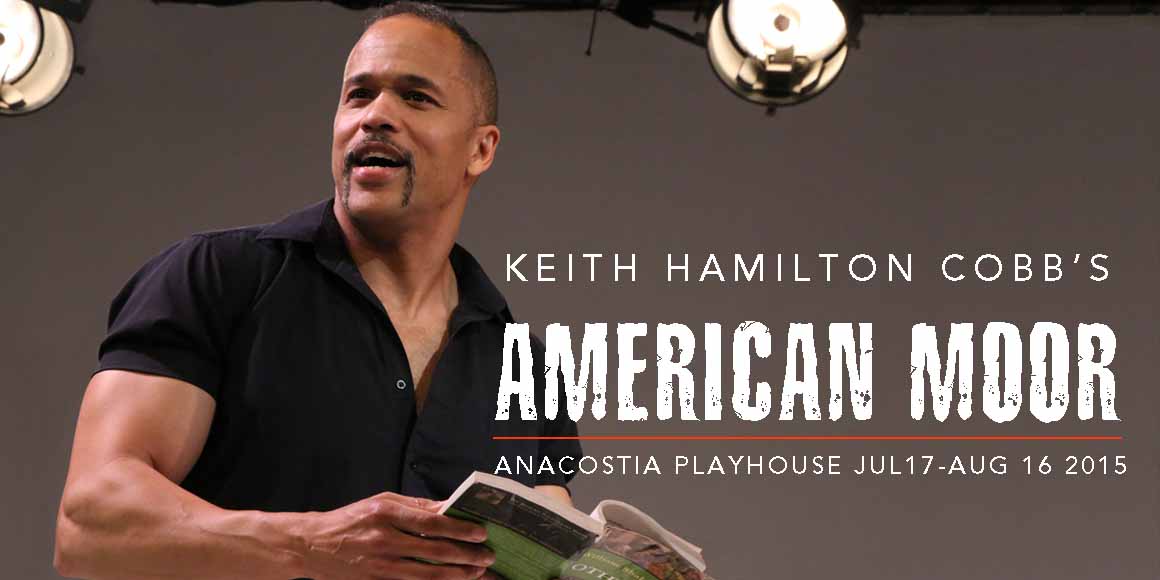 We are giving away two pairs of tickets to American Moor starring Keith Hamilton Cobb for the weekend of July 18th! Coming to the Anacostia Playhouse from July 17 to August 16, 2015
To enter this giveaway, you must answer the following question in two (2) paragraphs or less. This contest is different from the norm because of the topic involved. There are no right or wrong answers.
How can we as a nation remove the color lines in the arts?
Send your answer, in an email, by JULY 14, 2015 @ 5:00 PM with your NAME, LOCATION & the ANSWER to therogersrevue@gmail.com – SUBJECT: AMERICAN MOOR for your chance to win the prize in our random drawing!
American Moor is funny, touching, and greatly entertaining while simultaneously asking important, complex and at times uncomfortable questions: Our national theater community prides itself on progressiveness and open expression. But are those the facts? Or is there actually a patronizing quality to our approach that we can see reflected in the play, Othello and in the culture at large? Beyond just the audition process, is there a racism that exists in our contemporary theater? And has it become a microcosm of progressive/liberal society that believes it has knowledge of the black experience when it bothers to explore it at all?
American Moor is nothing if not authentic, wholly unapologetic in its focus on the denial inherent in our cultural dialogue on race, and unwavering in its hope for change and forward progress. Tickets are $25 general admission, $20 for East of the River residents, seniors and students
What: AMERICAN MOOR by Keith Hamilton Cobb. This production is being presented under the auspices of the Actors' Equity Association Members' Project Code.
When: July 17-August 16, 2015. Thursday-Saturday at 8pm, Sundays at 3pm
Run Time: 80 minutes
Information: www.anacostiaplayhouse.com
Tickets: $25 each; Call 202-290-2328 or visit www.anacostiaplayhouse.com
Where: Anacostia Playhouse. 2020 Shannon Place, SE, Washington, DC 20020
RULES: Each household is only eligible to win one of two pair of tickets to American Moor at Anacostia Playhouse for Saturday July 18th or Sunday July 19th at 8:00pm. Only one entrant per email address per giveaway. If you have won the same prize on another blog and if you want another TRR prize within the last 30 days, you are not be eligible to participate in the giveaway.
Entries must be received by Tuesday July 14 at 5:00pm. Any entry after the time stated, will not be qualified. Winner must be available for either July 18 or July 19th in order to claim the tickets. Tickets are not transferrable to any other dates. Winner is subject to eligibility verification. Immediate family members & staff of Anacostia Playhouse, American Moor and The Rogers Revue are ineligible to enter the giveaway. Contest is open to the residents of District of Columbia, Maryland & Virginia.
Winner is subject to eligibility verification. The prize will available at WILL CALL on the days of performance. Good luck!