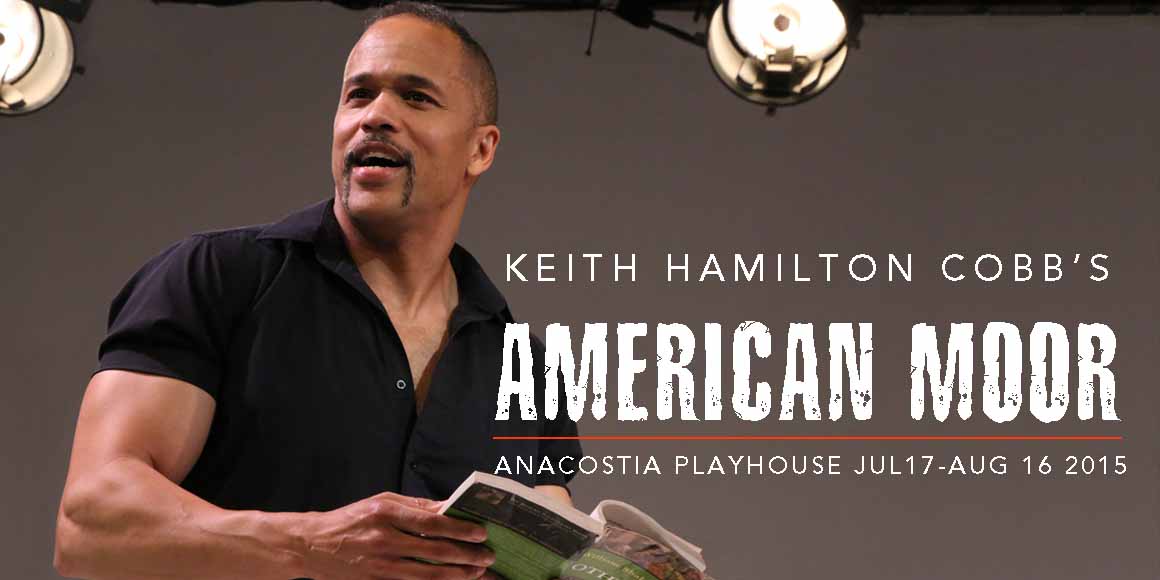 The Anacostia Playhouse announces that Keith Hamilton Cobb's American Moor will begin performances on Friday, July 17th, 2015 in their performance space at 2020 Shannon Pl SE, Washington, DC 20020.
Keith Hamilton Cobb, who is best known for his television work in daytime dramas (All My Children, The Young and the Restless, etc.) and for his roles in Gene Roddenberry's Andromeda, and Noah's Arc has always been at heart a stage actor and has an impressive resume to back him up. This love for the theater has compelled him to develop a remarkable and controversial work that takes the audience into a sanctified and often secretive place – the audition room of the professional American theater.
Passionate, poetic, pointed, and deeply moving, American Moor explores the experience of a large, middle-aged, black man auditioning for the role of Othello, while responding to suggestions from a white, often younger, artistic director who presumes he understands how to maximize a black character for believability. American Moor is an unapologetic look into a theater industry irony that serves as metaphor for our most pressing societal condition, and an issue that is certainly fresh in the mind of the greater DC community: white culture dictating rules of conduct to a non-white one from an often-inadvertent place of privilege.
American Moor is funny, touching, and greatly entertaining while simultaneously asking important, complex and at times uncomfortable questions: Our national theater community prides itself on progressiveness and open expression. But are those the facts? Or is there actually a patronizing quality to our approach that we can see reflected in the play, Othello and in the culture at large? Beyond just the audition process, is there a racism that exists in our contemporary theater? And has it become a microcosm of progressive/liberal society that believes it has knowledge of the black experience when it bothers to explore it at all?
American Moor is nothing if not authentic, wholly unapologetic in its focus on the denial inherent in our cultural dialogue on race, and unwavering in its hope for change and forward progress. Tickets are $25 general admission, $20 for East of the River residents, seniors and students
What: AMERICAN MOOR by Keith Hamilton Cobb. This production is being presented under the auspices of the Actors' Equity Association Members' Project Code.
When: July 17-August 16, 2015. Thursday-Saturday at 8pm, Sundays at 3pm
Run Time: 80 minutes
Information: www.anacostiaplayhouse.com
Tickets: $25 each; Call 202-290-2328 or visit www.anacostiaplayhouse.com
Where: Anacostia Playhouse. 2020 Shannon Place, SE, Washington, DC 20020