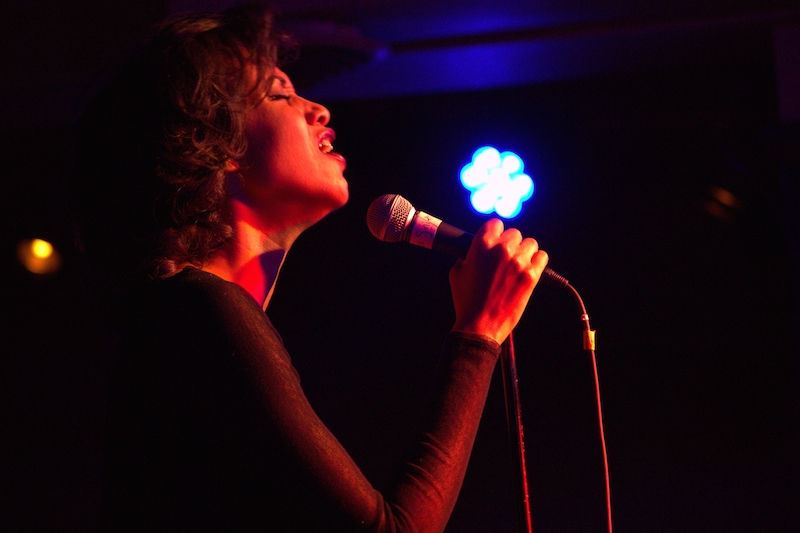 Tonight at Rams Head On Stage the very talented Alice Smith took the stage with her band. Alice has a very playful style that expands a wide variety of genres. She also has a very imaginative perspective when it comes to song writing. Tonight we got a chance to preview this sort of new/old style that she encompasses.
Alice Smith broke into the scene in 2006 with her debut album For Lovers, Dreamers, & Me. It achieved commercial success being featured in shows such as Entourage and The L Word. Her style is original and unique, a blend of rock, jazz, blues and soul. Although I would consider the blues her most prominent style, it's a very upbeat rock 'n' roll style of blues. Almost every song she performs seems to escalate into a defiant climax. There are no dull moments; even during her soulful melodic verses you can anticipate a bridge into a vociferous finish. Her style of singing is very cheeky; she has a thick mezzo style tone that she usually carries into an uproarious self justification. She is very expressive as well. Often, she would make a worried facial expression as if she was pleading with the audience. It was so expressive, it made me kind of nervous. Really makes you believe she means what she's singing about.
She performed songs from her new album She such as "She" and favorites such as "Dreams" and also a Cee lo Green cover "Fool for You". Alice covered the song so well people from the audience were asking her to do it again. Alice paused and was like; really!? "Do it again!?" Alice then proceeded to play the song twice!
The atmosphere was excellent, there wasn't a hint of tension from any of the performers especially Alice, she hand a cool hand. The audience's applause started to drown out her singing during the performance, so Alice sang louder and drowned out the applause. It went back and forth like this all night. There was plenty of clapping, whistling and people shouting "You go girl!" and "Alice we love you.".
The performance all in all was pretty good. A little short though, it ran roughly an hour and some change. Alice did have to back off from the front of the stage sometimes to avoid feedback but that was it. The instrumentation was a little simplistic, usually just a base rhythm with a few changes. More or less it was Alice's voice carrying the show. Which wasn't bad, she has the ability to do that. If anything you will not be bored, Alice's personality doesn't allow for it. So if you want an entertaining experience, grab a bottle of merlot and go see Alice Smith