Algebra Blessett at The City Winery D.C.
3 min read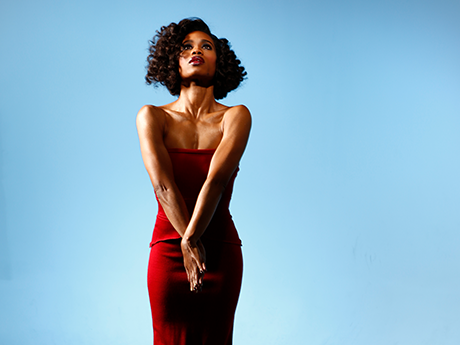 Sunday August 12th, the beautiful R&B songstress Algebra Blessett graced the City Winery stage with blessings for all. Stepping onto a florally decorated stage, the set began with an upbeat version of "U Do It for Me" from her debut album "Purpose". This was the song that turned me on to her music and my personal favorite to date. Algebra then issued the "make yourself at home" ground rule. She told the crowd, "pretend you're at my house", and then asked if she could perform a new song. The crowd approved and she went in with "Feels So Good", from her upcoming album. It was cool to hear new material as her last album was released in 2013.

Continuing with the laid-back vibe, Algebra let the crowd know some of her family was in attendance as she asked one of her relatives, "what y'all eating?". She continued to talk with and meet fans close to the stage while waiting on one of her band mates to tune her guitar. Southern girl charm on full blast, she even went as far as to share some cheese cake with one fan. The City Winery seating being right up to the stage, allowed for a more personal interaction than most small venues. Once her guitar was tuned, she performed "At This Time", another throwback to her first album. The crowd about 70% women, started singing along half way through the song to the point the band stopped playing and allowed the crowd to finish the second verse. The show carried on in a very informal way. Song performance, then conversation with the crowd. It felt more like a get together with a friend that just happened to be a pretty good singer/song writer.
Algebra spoke about her appreciation for teachers and the importance of their role in fostering young artistic talent. She said without early encouragement she would not have made it this far. This led into "Writer's Block" from her sophomore album "Recovery". In this song she draws the comparison of life decisions to having writer's block. Next, Algebra and the band went into an impromptu medley of jokingly pieced together songs to include her own version of Drake's "In My Feelings". She admitted she hadn't yet leaned all the words but liked the song. The crowd joined in and helped her fill in the blanks. She then performed a cover of Whitney Houston's "You Give Good Love". Way too many people have tried to cover Whitney songs and failed hard, but I have kept it 100, Algebra did Whitney justice.
At this point Algebra surprisingly started taking requests of which of her songs the crowd wanted to hear next. She performed the first verse of a few songs from "Recovery".  This being her biggest album so far, she ended the night with its biggest single "Nobody but You". As far as laid-back shows go, this is how it's supposed to be done. Algebra and the band performed about 90 minutes of good music and made the night fun with the back and forth with the crowd. Great show, great singer, combined with meaningful well written songs. Very rarely are artist able to sound as good live as recorded but for her this wasn't a problem. I would recommend checking her out when she comes to town
Final Grade A