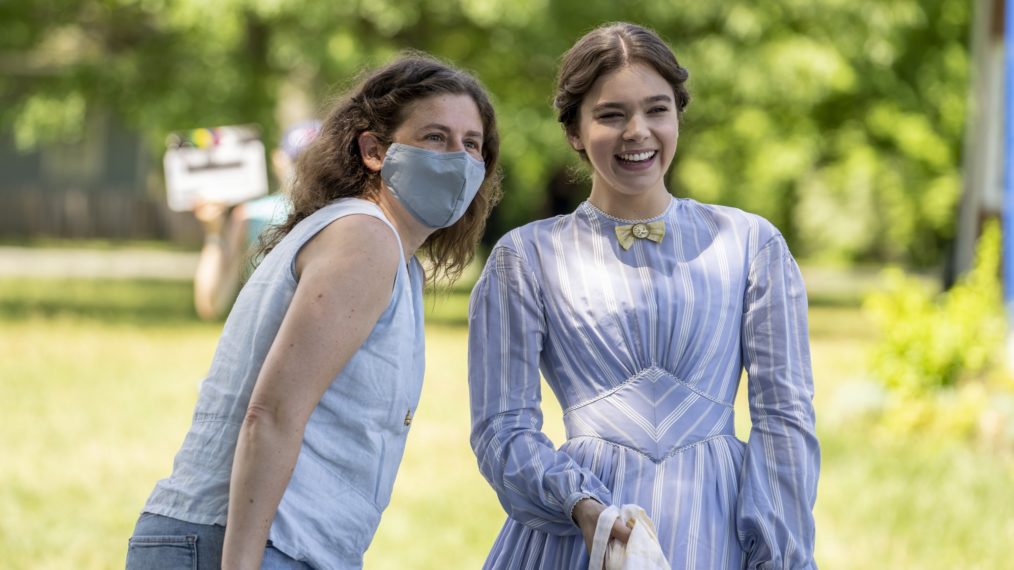 On Today's Edition of THE INTERVUE, today is a big day for streaming media! On Apple TV+, we are getting ready to say a fond farewell to one of America's beloved poets with the third and final season of Dickinson. 
In the third season, Emily Dickinson's most productive time as an artist falls amid the raging American Civil War and an equally fierce battle that divides her own family. As Emily tries to heal the divides around her, she wonders if art can help keep hope alive, and whether the future can be better than the past.
In the first of three interviews, I will be talking with the cast and crew to reflect on their time with the brilliant half-hour comedy series. On deck first is the Creator, writer, executive producer of Dickinson Alena Smith!
How excited are you to bring Billy Eichner to play Walt Whitman, Ziwe as Sojourner Truth, Zosie Mamet who plays Louisa May Alcott? All these classic people we knew from the Dickinson era and bringing them into the series.
Its so fun! I feel so excited about the guest stars we have for season three. Ziwe was a writer in our writer's room this year and somehow in the process ended up having her own talk show on Showtime and ended up being our biggest celebrity guest star as Sojourner Truth which is just hilarious. Billy who we were really writing the part of Walt Whitman for because Whitman was such an important figure in terms of thinking about Emily Dickinson's meaning and in particular relationship to the Civil War. Whitman embodies the principle of being out in the world, touching everything, smelling everything, being a nurse in a hospital and hanging out in an actual gay club called Pfaffs, which he used to go to. It was on the bowery in Manhattan. He takes Emily there and he really challenges her definitions of herself and her sexual identities.
All of that was so exciting and fun. I feel so glad that we got all these perfect people to come and join and play with us.
It was fun watching it. You made your directorial debut in the series finale which will air on December 24th. What was it like to step from the writer's role to the director's chair for the first time?
It was wonderful. It was a natural step for me as a creator/showrunner to step into the director's chair and take that final leap and it felt so go to good to be that kind of way to lead the team to the finish line of this series and connect with so deeply and directly with Hailee and the rest of the cast and crew just to put a capstone on this whole thing. It was wonderful and I hope to keep doing more directing.
We're getting ready to start the final season on Nov. 5th and ending on Christmas Eve, what will you miss?
I will miss obviously everyone involved in the show and I will miss Emily Dickinson. I will miss that day-to-day connection that I had with her work over a long period of time that I have working on this show. Its those poems that you can return to again and again & again. Luckily, I will still have those poems to keep with me.
Stay tuned as the next interview, I will talk to Adrian Blake Enscoe and the newly married Ella Hunt, the third and final season of Dickinson begins TODAY on Apple TV+