AFI Launches AFI DOCS FILM SERIES in DC
2 min read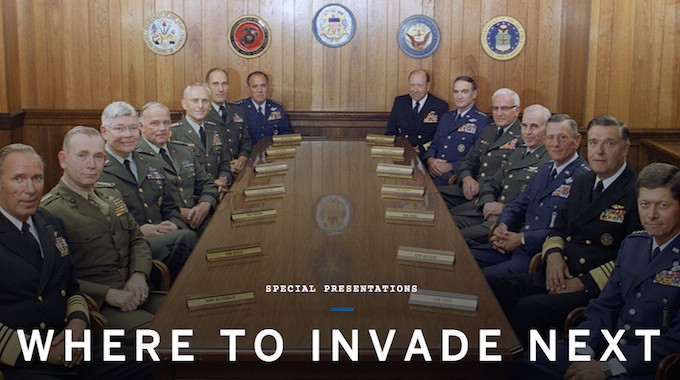 The American Film Institute announced today its new AFI DOCS FILM SERIES, a year-round documentary screening program in Washington, DC that supplements the annual AFI DOCS Film Festival in June. Throughout the year, AFI DOCS will bring audiences in the nation's capital the best in nonfiction filmmaking — with some of the most celebrated work from festivals such as Berlinale, Cannes, Sundance, South by Southwest, Telluride, Toronto and Venice. Academy Award®-winning documentarian Michael Moore's Where to Invade Next will kick off the new series on November 16, 2015, at the Landmark E Street Cinema, where the series will be regularly hosted. Moore will participate in a post-screening discussion. Admission to this event and to all screenings in the AFI DOCS FILM SERIES will be free to invited guests and select AFI members.
"We see great enthusiasm in Washington, DC for world-class documentary experiences. The AFI DOCS FILM SERIES gives thoughtful, intelligent movie fans a first look at the best documentaries throughout the year. In addition to the wonderful lineup of films presented year-round at the AFI Silver Theatre and Cultural Center, this new series enables us to bring even more filmmakers and their true storytelling to our nation's capitol," said Michael Lumpkin, Director of AFI DOCS.
In his latest subversive comedy, Moore, playing the role of "invader," visits a host of nations to learn how the U.S. could improve its own prospects. Turns out the solutions to America's most entrenched problems already exist in the world — they're just waiting to be co-opted. Ahead of the film's Washington, DC premiere in the AFI DOCS FILM SERIES, WHERE TO INVADE NEXT will be presented as an AFI FEST Centerpiece Gala screening in Hollywood, CA, on November 7, 2015. A leading voice in documentary, Moore's acclaimed film credits include ROGER & ME (1989); THE BIG ONE (1997); the Oscar®-winning BOWLING FOR COLUMBINE (2002); Cannes Palme d'Or winner FAHRENHEIT 9/11 (2004); and CAPITALISM: A LOVE STORY (2009).
To receive invitations to the AFI DOCS FILM SERIES, subscribe to the AFI DOCS Newsletter or become an AFI member. Future screenings will be announced and posted on AFI.com/AFIDOCS.