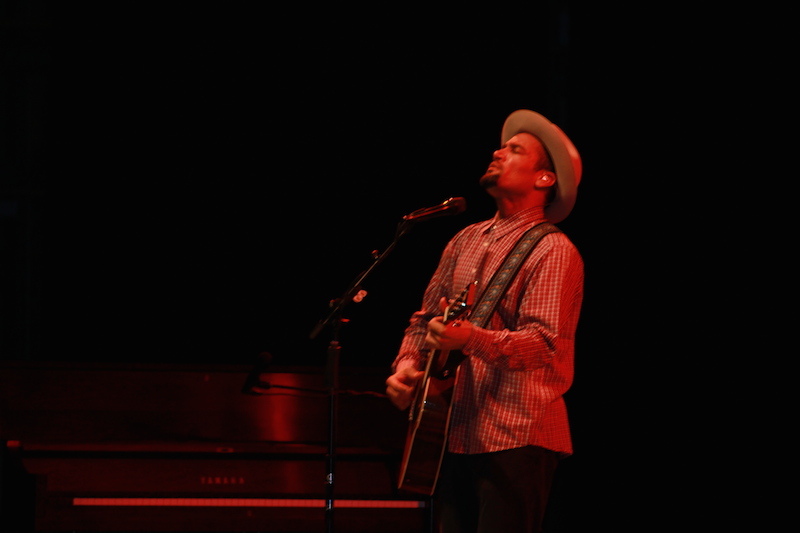 A cool summer breeze filled the night air surrounding the Filene Center at Wolf Trap. The opening performer Rickie Lee Jones had just finished her act. Her gentle yet authoritative pleas were still cognitive. Her soft paced guitar and piano chords having ushered in the droves of fans. Ben Harper is about to take center stage and he is so cool, calm and collective it will get you excited.

As you viewed the stage arrangements you would think a whole band was coming out to play; an upright piano with an assortment of guitars and percussion bells. What made this show particularly special was that this was Ben Harper's first solo performance and this was his first time playing at Wolf Trap. Ben Harper is a man of many talents and skill sets and just like the assortment of instruments on stage are the many variations of genres he encompasses. Is it Soul? Is it Funk? Is it Reggae? Is it Folk? Is it Country? Is it Rock n Roll? I don't care what you call it. The way he slaps and plucks those guitar strings accompanied with the smoothly tantalizing soul he projects from his voice will give you goose bumps. The performance of "Diamonds on the Inside" was awe-inspiring. It was like watching Bob Dylan in his prime. Let me reiterate just to make it abundantly clear Ben Harpers singing was absolutely amazing.
There was even a segment where he just sat and told a story. It was about of one his friends Jeff and his crazy antics while trying to meet Jimmy Page at a concert in France. It was so intimate, like if he was holding a personal conversation with the entire audience.  Ben Harper would rotate instruments for each song. I thought I've heard everything but I've never heard slap Funk played on a Ukulele; that was incredible! Ben was just on stage having fun; I could tell because he couldn't stop smiling. The whole audience was smiling. Listening to Ben Harper live gives you a healing sensation you can just relax and know everything's alright; you are at a Ben Harper concert.