THEATRE REVUE: A Gentleman's Guide To Love & Murder
4 min read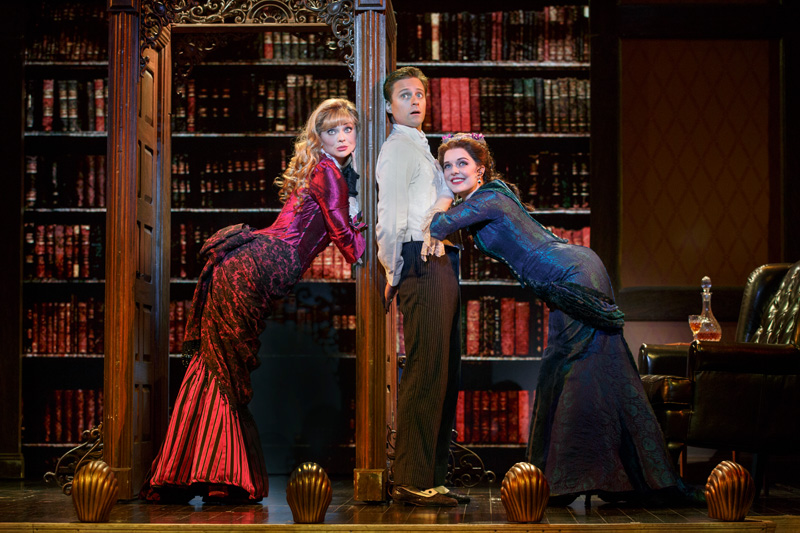 "A Gentleman's Guide to Love & Murder" is a guide to a great night of theatre. It's a testament to how well written and thought out a show is; if you delete all of the musical numbers, you would still have a fantastic play. Having said that, even the best show with the wrong cast can be awful. I was lucky enough to have seen this triumph on Broadway, so I was expecting greatness and this cast delivers.
Kevin Massey as Monty Navarro has the perfect blend of charm and wit to captivate the audience and he needs it because he is onstage nearly the entire show. Not only is Massey the perfect leading man, his singing is exquisite, with excellent diction. For a show such as this, that could make or break him. Understanding the lyrics really moves the show along, like an opera.
John Rapson's versatility is astounding. To play 8 characters and make each diverse to show acting prowess, but retain enough similarity so the audience gets the joke that he's the same actor is not only a challenge of acting, challenge of costuming, but it's a feat that few could take on. The nuances that Rapson brings to his characters is nothing short of brilliance.
Matching him bite for bite is Kristen Mengelkoch, as Lady Eugenia. Their chemistry and timing is phenomenal. Her character could easily be lost up against the scope of Rapson's D'Ysquith, but she holds her own and even surpasses at moments, which really works in both their favor. Basically, it becomes scenes of one ups and the audience is richer for it.
Kristen Beth Williams, as Sibella portrays her part perfectly. The show is so over the top and tongue-in-cheek that this character could end up as a version of Galinda from "Wicked", but with the right air of class and whimsy (about herself) that Williams brings to the part, she's a delight to watch be selfish, and her voice is just beautiful to listen to; again with clear diction, without which you would lose some of her character.
Portraying Phoebe D'Ysquith, is Kristen Hahn. Ms. Hahn transitions her character flawlessly throughout the show. Her voice is like a lovely, happy songbird. During duets with Williams, they blend seamlessly. When you have two leading ladies, the writer(s) usually makes a very dramatic difference between the two. Here, you think this will be the case…the blonde and the brunette, but in this case, you're not getting the ingénue and the bawdy character, you're getting two beautiful, sweet looking, girls, who could charm the pants of anyone.
The leads complement each other so well, how they are written, but also how this cast works with each other.
The ensemble and minor characters are not to be left out. For a small group (as was in the Broadway production) they make a big impact, with very succinct execution of choreography and support for the larger characters.
Costumes and sets are beautiful and bring a minor update to 1909 styles, which I liked, even though I'm a stickler for accuracy.
The show is a bit of a British farce and reminiscent of Gilbert and Sullivan. I just cannot say enough great things about this masterpiece and to top it off, this incarnation is well-worth seeing. Every ounce as amazing as the Broadway cast, and in some cases, even better!
The tour stays in Baltimore through January 1, 2017 and then moves to Ohio. For further dates, go to www.agentlemansguidebroadway.com
For the rest of the Broadway series, go to www.baltimorehippodrome.com