9/11 Film Giveaway
3 min read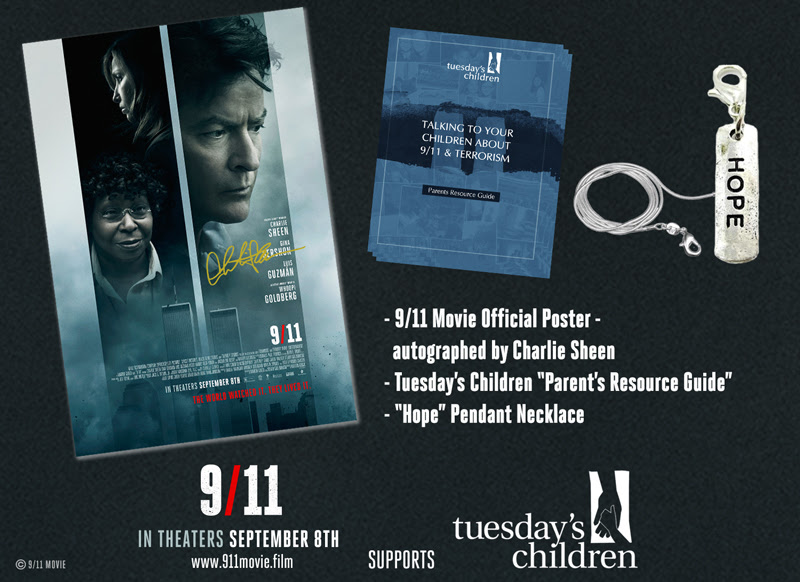 This year marks the 16th Anniversary of September 11th. I remember working in DC at Engraving & Printing when the events of that day unfold before our very eyes. The whole world changed in a instant as people wonder what happened, why and how can we come together as a nation. We are working with 9/11 Movie to giveaway a autographed poster by Charlie Sheen and a "Hope" Pendant Necklace. Enter Today
TO ENTER: Send us your name, location, and a screenshot that you are a fan of The Rogers Revue on Facebook, Instagram or Twitter – to therogersrevue@gmail.com with the Subject 9/11 by September 23rd @ 5:00pm EST – This contest to open all residents living in the United States & Canada
The 9/11 Prize Pack Contains:
1 – 9/11 poster Hand Signed Autographed by star Charlie Sheen
1 – "Hope" Pendant with necklace
1 – Guide to Talking To Your Children About 9/11 thanks to Tuesday's Children
One randomly selected person will WIN this prize pack, GOOD LUCK!
Check out this awesome blog app with facts about 9/11 thanks to Tuesday's Children!
• Read and share the 9/11 fact cards, provided by Tuesday's Children
• Watch behind-the-scenes interviews with Charlie Sheen, Gina Gershon, and Luis Guzman.
We would like to introduce you to an awe-inspiring film starring Charlie Sheen and Whoopi Goldberg titled 9/11, based on the original play, The Elevator, that centers on the events of September 11, 2001 and features an all star cast including Luis Guzman (The Taking of Pelham 1,2,3), Gina Gershon (Showgirls), Wood Harris (Justified), Jacqueline Bisset (Dancing on the Edge (BBC), Welcome to New York), Olga Fonda (The Vampire Diaries) and Bruce Davison (X-Men).
In the World Trade Center, a billionaire sits in his attorney's office awaiting a divorce hearing against his wife. In a west side apartment, a bike messenger kisses his 5-year old daughter and sings her "Happy Birthday" before leaving for work. A maintenance man gets dispatched to help a tenant with his lock. In an upper east side apartment, a young model musters the courage to break up with her sugar daddy. As random as random can be, these individuals step into a crowded World Trade Center elevator.
Wrapped up in their own world, they all ride silently hearing only the sound of the elevator giving notice of each floor. When the elevator stops on the 34th floor, it empties leaving only these five behind. Moments later … their world changes as the collision of a jet into the North Tower incapacitates the elevator.
With no understanding of what has happened and is happening around them, these fives are forced to band together and fight against all odds to escape from the impending horrific collapse. During these critical minutes, a story of courage, faith, and the will to live unfolds.
Visit https://www.911movie.film for more information.
RULES:
Each household in the US is only eligible to win the 9/11 Movie Prize Pack. Only one entrant per email address per giveaway. If you have won the same prize on another blog, you are not be eligible to participate in the giveaway. Entries must be received by SEPTEMBER 23, 2017 @ 5:00pm EST. Any entry after the time stated, will not be qualified. Winner is subject to eligibility verification. The prize will be sent via FedEx or USPS. No P.O. Boxes please.