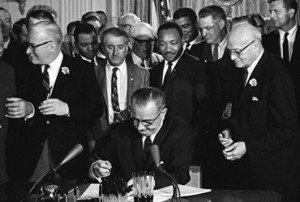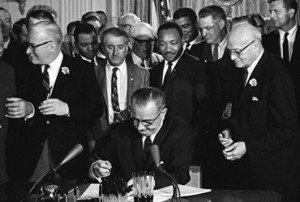 Join Moment Magazine and the Religious Freedom Center of the Newseum Institute for a celebration of the golden anniversary of the Voting Rights Act of 1965. Moderated by journalist Steven V. Roberts, the event will feature Former Congressman Barney Frank, Congresswoman Eleanor Holmes Norton, and Julian Bond, as well as include a live photo exhibition of some of the period's iconic photographs and live music from the Selma march era.
PANELISTS
Former Congressman Barney Frank served as United States Congressman from Massachusetts for over three decades, starting in 1981. An outspoken and deeply-respected legislator, noted for his keen sense of humor, Frank has played a key role in some of the most important legislation of our country's recent history, including the repeal of "don't ask, don't tell." Frank became the first member of Congress to voluntarily come out as openly gay, and in 2012 he married his longtime partner Jim Ready, becoming the nation's first congressman in a same-sex marriage while in office. Frank's sixteen terms in Congress have left a legacy of civil rights and financial reform. As noted by The Wall Street Journal: "Mr. Frank's combative liberalism and quick wit make him a standout in a Capitol filled with politicians dependent on talking points and polls, a trait alluded to by Mr. Obama who said in a written statement that, 'The House of Representatives will not be the same without him.'"
Congresswoman Eleanor Holmes Norton, now in her thirteenth term as the Congresswoman for the District of Columbia. Before her congressional service, President Jimmy Carter appointed her to serve as the first woman to chair the U.S. Equal Employment Opportunity Commission. She came to Congress as a national figure who had been a civil rights and feminist leader, tenured professor of law, and board member at three Fortune 500 companies. Congresswoman Norton has been named one of the 100 most important American women in one survey and one of the most powerful women in Washington in another. The Congresswoman's work for full congressional voting representation and for full democracy for the people of the District of Columbia continues her lifelong struggle for universal human and civil rights.
Civil rights leader Julian Bond is a leader of the American Civil Rights Movement. While a student at Morehouse College in Atlanta, he helped found the Student Nonviolent Coordinating Committee (SNCC). He was elected Board Chairman of the NAACP in 1998.
Moderator Steven V. Roberts has been a journalist for almost 50 years. He has covered some of the major events of his time, including the antiwar movement and student revolts of the 60s and 70s, President Reagan's historic trip to Moscow in 1988, and twelve presidential election campaigns.