2015 Elite 8 Bhangra Invitational
4 min read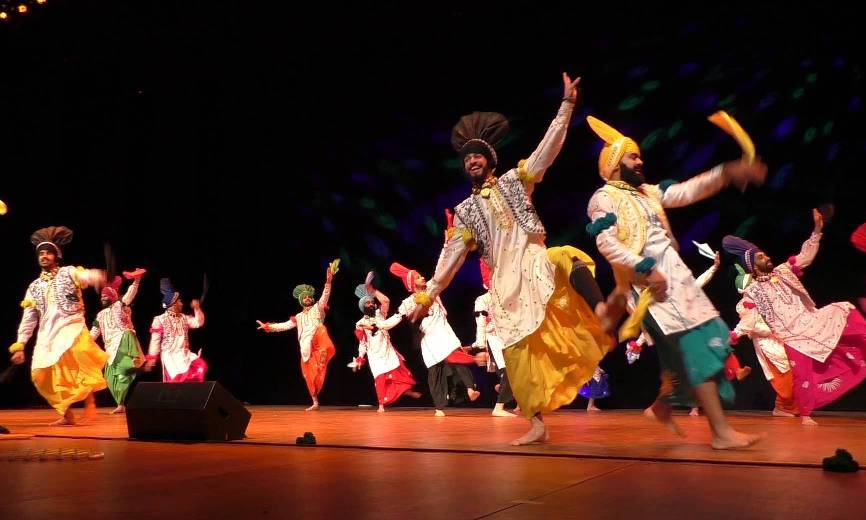 Back after a 3-year hiatus, the Elite 8 Bhangra Invitational exploded back onto the scene at the GW Lisner Auditorium on February 28. The 4th iteration of this show featured local acts from the DC area and groups willing to travel from as far as Boston and New York.
It was not hard to figure out the attraction for these traveling competitors and exhibitionists. Bhangra is a celebratory traditional dance from Punjab of which many Indians and other South Asians are understandably proud. This type of performance, with its richly vivid colors, numerous props and stunts and boisterous shouts (more on this later) cannot help but to fill a space with energy and spirit. This particular event was special because it was a reunion of sorts, giving extended family and old friends a fun way to reconnect. Audience members hugged each other and caught up before settling into their seats for the show. As show organizer Nupur Moondra explained, Bhangra inspires passion and promotes a sense of family.
Starting the evening was an exhibition group, the kids of DC MPAA (Metro Punjabi Arts Academy). Run by a husband and wife duo, this institution is dedicated to teaching Punjabi dances and music to locals as young as 5! To say these kids were cute is a huge understatement. The crowd loved not only how much fun they were obviously having, but how the traditions were being passed on to a new generation. Another group that was not shy about showing the audience that they were having a blast was the first competitive team to perform: Joshiley Jawan. Each charming member of this all-male group kept huge smiles on their faces and looked as if they couldn't be happier to go first. Their transitions from one formation into another were flawless, and they made their time onstage look effortless. While other teams may have been more precise, I am not surprised that this team won. They were smooth and confident and really got the night off to an amazing start.
A good beginning was definitely necessary because the event did not start on time. This was to be expected since so much goes into a large production, but it was still a little frustrating, especially since the programs did not have any information about the groups performing that night. As someone without a friend or cousin onstage, I knew absolutely nothing about the teams and couldn't even read about them while waiting for the lights to go down. The biggest disappointment, however, was the inability of the sound technicians to restrain themselves. Bhangra dancers already generate plenty of noise with the cheers elicited from the impressive strength it takes to get through such a strenuous performance, but the musical accompaniment for each performance was nothing short of earsplitting. Had I remembered to bring earplugs, I probably would have made it past intermission, but I simply could not endure the painfully loud music on top of the screams from the audience. The Lisner Auditorium has great acoustics and I hope the crew will realize that less is more next year.
And yes, I do hope there is a next year! Please do not make us wait 3 years again! One of the most joyous and wonderful aspects of Indian culture is dance, and I fully support events such as the Elite 8 Bhangra Invitational that not only bring South Asian communities outside of the US together, but share great dance traditions with the rest of the world.