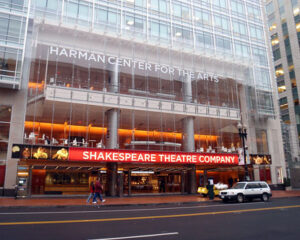 THE SHAKESPEARE THEATRE COMPANY ANNOUNCES 2014-2015 REDISCOVERY SERIES
Presenting Leading Female Voices of the 20th Century
The Shakespeare Theatre Company announces its 2014-2015 ReDiscovery Series with a selection of five plays by significant women playwrights of the early 20th Century, directed by local D.C. directors. The first reading to kick off the series will be Chains of Dew by Susan Glaspell, directed by Holly Twyford, on Monday, September 15.
"We see this series as a prelude to the Women's Voices Festival next season," says Artistic Director Michael Kahn. "This selection of plays serves as an introduction to today's leading women playwrights through the work of their forerunners, and gives us the opportunity to examine under-produced yet powerful works. We are happy to welcome five of D.C.'s rising women directors to direct these readings."
The 2014-15 ReDiscovery Series is intended to begin to close the gender gap that still troubles classical theatres in their presentation of work by women. Works chosen for this installment of the series span five decades and come from such notable 20th-Century playwrights as Susan Glaspell, Rachel Crothers, Dawn Powell, Lillian Hellman and Alice Childress. Throughout the season, the readings will be helmed by D.C.-based directors Holly Twyford, Shirley Serotsky, Lise Bruneau, Eleanor Holdridge and Jennifer Nelson.
Chains of Dew, the first reading of the series, will take place on Monday, September 15 at 7:30 p.m. Readings are free, however, reservations are required. Tickets can be reserved online at ShakespeareTheatre.org or by calling 202.547.1122.
2014-2015 ReDiscovery Series:
Chains of Dew (1922) By Susan Glaspell
Directed by Holly Twyford
Monday, September 15, 2014, 7:30 p.m.
Guess who's coming to dinner? It's the Birth Control League! In Susan Glaspell's Chains of Dew, New York feminist Nora Powers follows her friend (and possibly more), the freethinking poet Seymore Standish, to his Midwestern hometown. But when she meets his wife and mother, Nora is forced to confront her own prejudices. Beloved D.C. actress and director Holly Twyford helms the first ReDiscovery Reading of the 2014-2015 Season, by one of the founding figures of modern American drama.
Susan and God (1939)
By Rachel Crothers
Directed by Shirley Serotsky
Monday, November 17, 2014, 7:30 p.m.
Bored socialite Susan Trexel has just returned from vacation in Europe, completely rejuvenated. The only problem? She's fallen under the sway of a religious cult. Susan's determination to reform the dissolute lives of her friends and estranged husband leads to uproarious—and unexpected—results. Rachel Crothers' final play (and the basis for the 1940 film starring Joan Crawford) is a sophisticated blend of serious social discussion and cocktail-party comedy. Find out why Crothers was the most produced woman on Broadway for over 30 years.
Big Night (1930) By Dawn Powell
Directed by Lise Bruneau
Monday, January 12, 2015, 7:30 p.m.
Nothing in life comes free, especially not marriage. Myra Bonney, a beautiful, brittle ex-model, lives in a cramped one-bedroom with her husband Ed, an ad man with a shaky grip on his career—and an even shakier grip on his morals. Ed and Myra's marriage is put to the test when he tries to throw a hastily assembled party for Jonesie, an out-of-town client who just happens to share a history with Myra. Taffety Punk's Lise Bruneau directs Dawn Powell's hard-boiled, jazz-age comedy, which the author herself compared to Coward's Private Lives.
The Autumn Garden (1951) By Lillian Hellman
Directed by Eleanor Holdridge
Monday, April 27, 2015, 7:30 p.m.
When Constance Tuckerman, the owner of a New Orleans boardinghouse, is visited by Nicholas Denery, a charismatic artist with whom she grew up, ancient emotions are unearthed. Lillian Hellman pours a lifetime of emotion into this Chekhovian tragicomedy, boasting one of her richest ensembles. Eleanor Holdridge directs the play that Hellman herself termed her favorite of her works.
Wedding Band (1962)
By Alice Childress
Directed by Jennifer Nelson
Monday, June 15, 2015, 7:30 p.m.
In World War I-era South Carolina, in a ramshackle black community, recently moved Julia Augustine has a secret. An ill-fated (and, at the time, illegal) white lover, Herman. These star-crossed lovers are subjects of discrimination, and not only by Herman's family. Alice Childress' play, written in 1962, is a landmark of the African-American theatre movement. It would not be professionally staged until six years later, and was rejected by television stations when adapted into a TV movie. Jennifer Nelson, a pioneering D.C.-area theatre artist, directs.
*Plays, artists and dates are subject to change.
Box Office: 202.547.1122 (voice) Toll Free: 877.487.8849